Vang Vieng Overview
Often underrated as only a bus stop on the long haul between Vientiane and the World Heritage Site of Luang Prabang, Vang Vieng which is the only place in Laos with a party scene has managed to become a destination in its own right.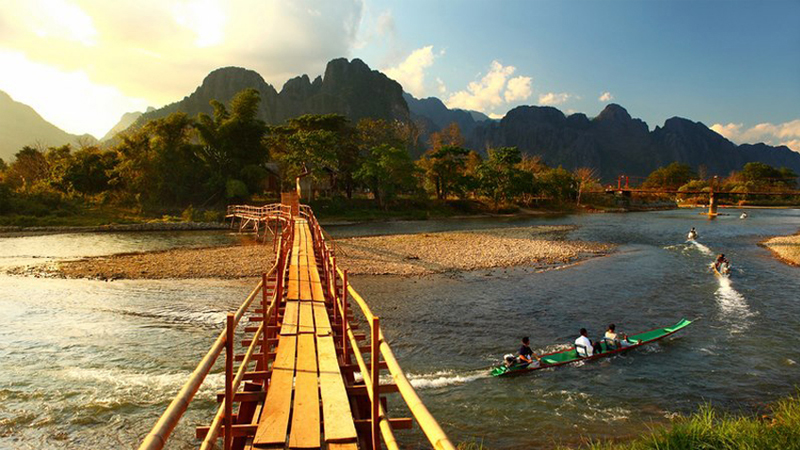 What to see and what to do in Vang Vieng?
Since 2004, Vang Vieng has been a popular base for outdoor activities, jungle hikes, and lazy days cooling off in the river.
Tour companies offering tubing - an activity that dominates this town and any visitors to Southeast Asia, cave visits (Water Cave, Xang Cave, Nang Oua Kham Cave, Padeng Cave and Ring Cave, etc), dirt buggies, kayaking, ziplines, rent an ATV or go dirt biking, mountain climbing (Sunset Hill / Pha Ngeun), swimming in waterfalls, cooling off in lagoons and rivers and combinations thereof are everywhere in the city.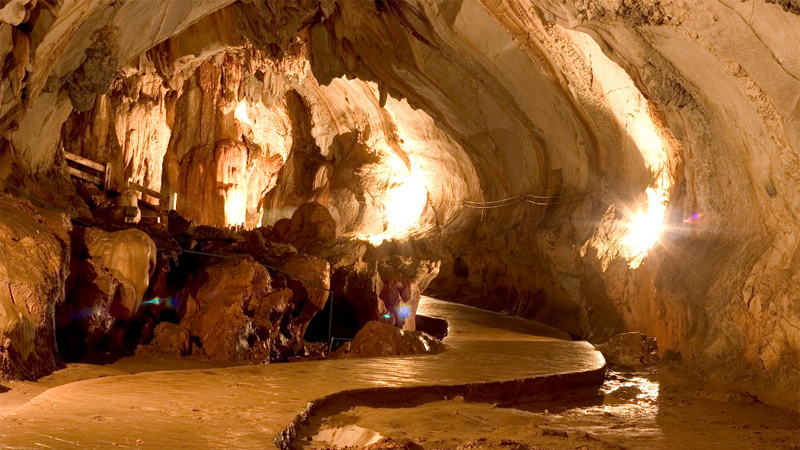 Still not much more than three streets and a bus station, the river flowing through the exceptionally wild karst formations, laid back countryside and many caves are considered to be the main attractions.
Vang Vieng is an excellent place to learn rock climbing (all year round) and to experience hot air balloon ride (in the dry season, from the end of October to around mid-May).
If you are looking for anything remotely close to real Laos, let's rent a bicycle or motorbike to get out of town to find yourself in an entirely different world of dirt roads, farmland, tranquil villages and friendly locals knee deep in mud hard at work doing farm affairs.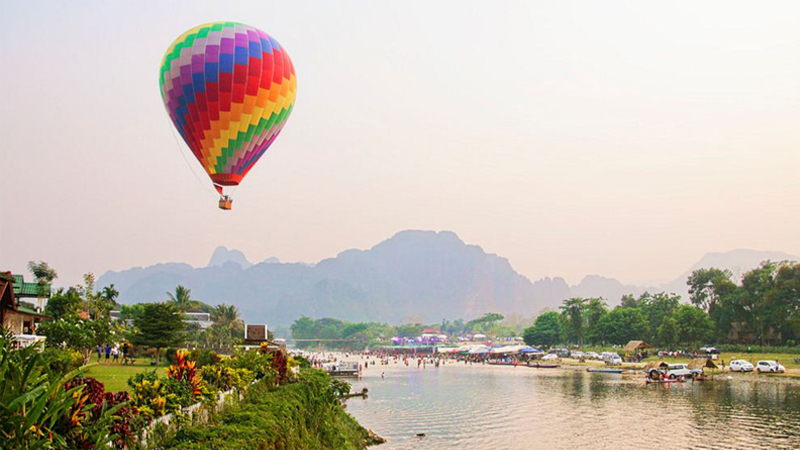 What to eat and drink in Vang Vieng?
If you are looking for traditional Lao culture and good Lao food, Vang Vieng might not be able to satisfy you. But having your own Beer Lao, admiring the small town's striking river landscape lined with towering karst when the sun goes down behind the mountains, gazing at the tranquil Nam Song (Song River) with a backdrop of serene cliffs and a tapestry of vivid green paddy fields will be an unforgettable memory.
On average, you can expect to pay about 15,000-35,000 for street food; a big breakfast of baguettes, eggs and jam for about 24,000 LAK; coffees or fruit shakes for 5,000-7,000 LAK.
A small serving of Lao, American, Italian, Chinese and Thai food at restaurants is 20,000-45,000 kip. For quick eats and late night snacks, large chicken and pork kebab skewers or pancake and sandwich can be bought for 5,000 Kip.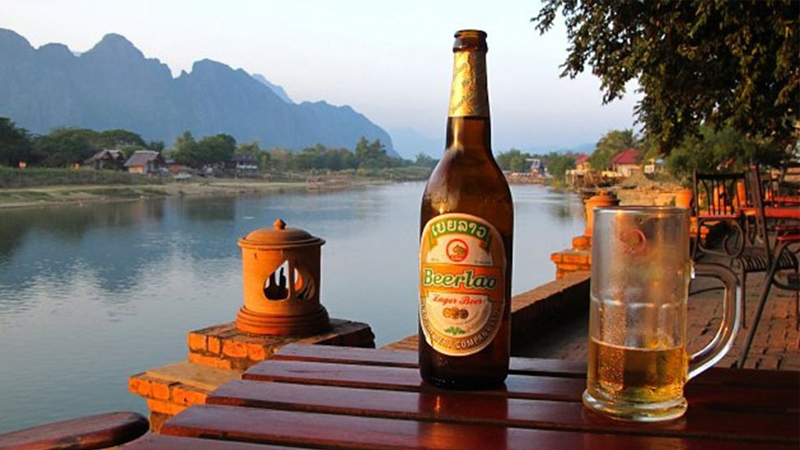 When to visit Vang Vieng?
The dry season from November to March, when temperatures are somewhat cooler with January being the coldest month of the year, is the best time to visit Vang Vieng.
With the temperature rising to 33°C and the rains about 11% of the time, the climate between January and February is pretty beautiful. On average, March to May, when the temperatures can reach 40ºC or even higher, is the hot season.
During the wet season from May to October with July and August being the rainiest months, the heavy rains can make it really difficult to travel around the surrounding area. In short: January, February, March, November and December are the months for good weather in Vang Vieng.