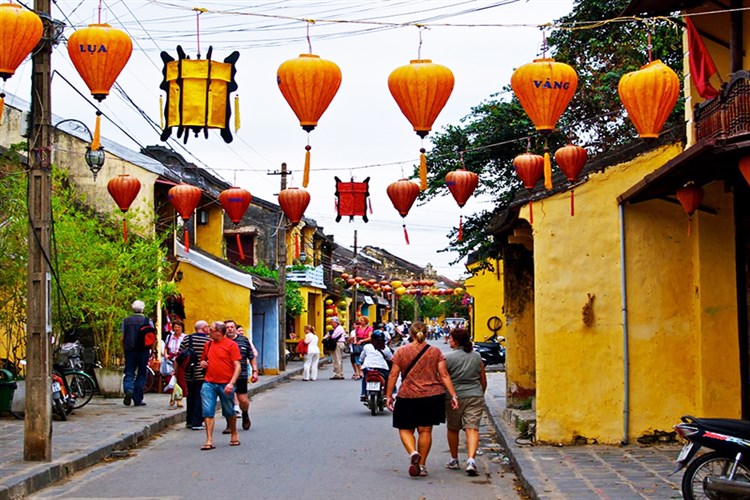 Activities: Walk around Hoi An to visit Japanese Covered Bridge, the Old House of Tan Ky and Phuc Kien Assembly Hall, and see the local life in the ancient town
Wait in your hotel lobby for our tour guide, who will meet you at 08:00 am to start your Hoi An Half Day Walking Tour. We will enter the Old Town, noting immediately some of the Japanese, Chinese, French and other European influences that are evident in the houses gracing some of the wide roads and tiny alleys, lined with swaying lanterns.
There is a multitude of history-soaked attractions for us to see, the choice of which depends on your preference and the advice of our experienced guide. One of the most popular of these is the Japanese Covered Bridge, with its 400-year history marking influence from, and eventual occupation by, Japan. The Phuc Kien Assembly Hall dates from 1759 and is a resplendent worshipping place for Chinese sailors to the sea goddess of Mazu, while the Old House of Tan Ky gives a fantastic account of the personal standard of living experienced by Hoi An's residents during its golden age of trade.
If you have time after the walking tour, we can try to find some great deals on tailored clothes or some other of the great things to buy in Hoi An. Our tour guide can take you back to your hotel or make some suggestions for restaurants where you can try some of Hoi An's fantastic and diverse food.
We hope you enjoyed the Hoi An Half Day Walking Tour. It was a pleasure having you and we sincerely hope to see you on another one of our tours in the future!