June is considered as a slightly mixed bag in terms of weather as getting plenty of hot weather and rain as well. However, June is also a good month of tourist season in Hanoi for summer vacation. It's rather difficult to give certain predictions of the Hanoi weather in this month, because temperatures, rainfall and sunshine can change from day to day. But June is still a great time to discover Hanoi and have a memorable trip in when visiting Vietnam.
June is the hottest month of the year in Hanoi. The maximum average temperature can reach 28 degrees Celsius at night. The temperature of the day is about 35 degrees Celsius, and even up to 38 degrees Celsius on the hottest days. Besides, the combination of high humidity of 75% and high temperature can be the reason for the heavy rain. A lot of international tourists from hot areas like California, Utah, or Texas would be interested in this Hanoi Weather in June. Whereas, those who prefer cool weather like England, France, or Argentina would have some difficulties.
Sunshine Hours in Hanoi in June
By the time June comes around, Hanoi is covered with blue sky and beaming sun for an average of 13 daylight hours per day. This is the longest month for sunshine hours in the lovely capital of Vietnam. Hanoi is truly sparkling at this time, especially at sunrise and sunset time. Sunrise in June starts earlier than other months, often at 05.16 AM; and sunset is also later at 06.35 PM. This is a great chance for tourists to take magnificent photos of the most stunning sunrise and sunset of the year.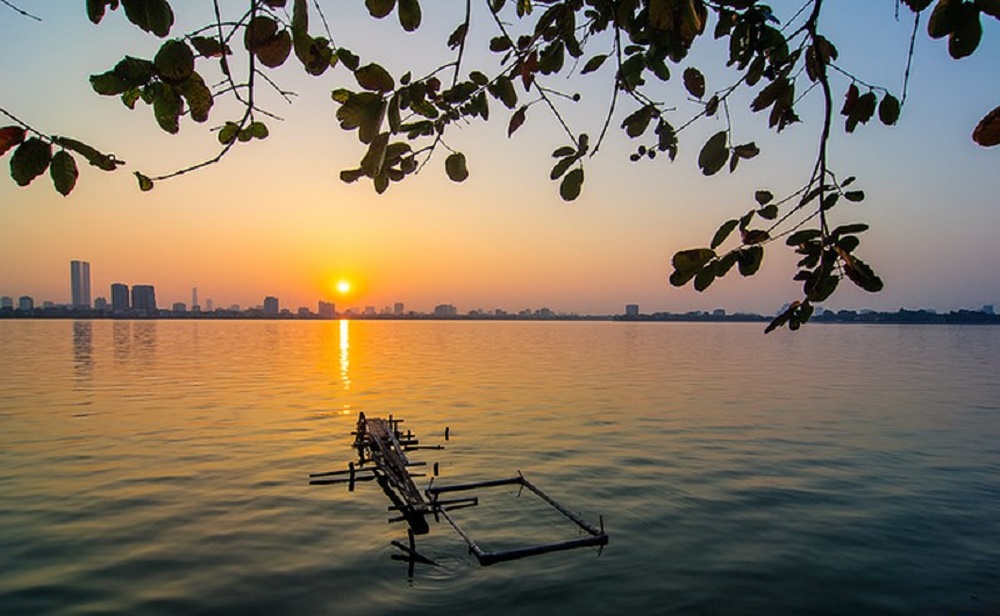 Sunrise in West Lake, Hanoi
Rainfall
June is the time of the rainy season, which means that rain occurs more frequently and at any time, and can last half an hour or a few days. Besides, storms can also take place anytime. Rainstorms can help the high temperature right down to a much more comfortable level, and you don't have to use sun cream for the day to be protected from blazing sunshine.
Is June a good time to visit Hanoi?
June is warm season in Hanoi so for travellers who really like the sun and photos it is a good time. In this time, it is rainy season also but when the rain stop then you will have clear and blue sky and you an take many nice photos. However, please note that it is hot so you it is not easy to go outside all day. It is rainy season so please prepare umbrella and raincoat also.
That will be peak season for domestic tourists so you should ask your travel consultant to know the destination of domestic tourists if you wish to avoid the crowd. However, for the foreign tourists that is the low season so that is the best time for you to travel if you wish a big deal from travel companies.
Hanoi in June: Peak Season vs Off-Season
June is the beginning of the peak season for tourists in Vietnam in general, and in Hanoi in particular. School is officially off in June for summer vacation, so family trips become more popular and convenient for tourists. Vietnamese people often get trips around Hanoi or even farther to other attractive destinations in the country.
June is also a good chance for foreign tourists because of a great deal. In this time, tourist companies often offer big deals for a lot of tours. So if you can adapt to the hot and rainy weather, June will be a great time for you to travel and get big deals on tours and shopping as well.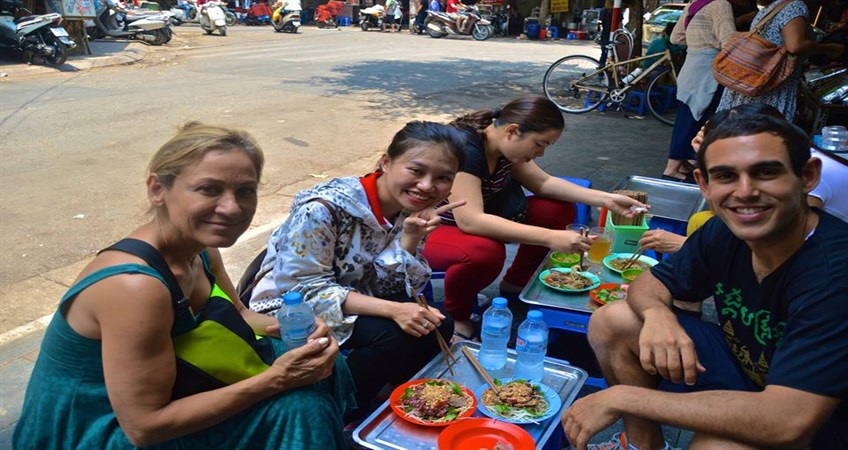 Foreign tourists in Hanoi
Hanoi in June: What to bring
June is the hottest month in Hanoi, so it is necessary to bring with sun cream and sunglasses for the 13-hour-sunshine days. Similarly, airy clothes would be good for your journey in hot weather in Hanoi. Also, with a sun-blocking hat, you can be protected from the blazing rays of the sun. Due to unpredictable rain, you should have a raincoat in your bag all the time you travel.
Furthermore, don't forget to bring a camera to save your memorable moments in your trip around Hanoi.
Hanoi in June: What to do
Sightseeing
Hanoi is a city on the move with plenty to explore, from historical to modern places. The Old Quarter is worth a visit with 36 ancient streets. You can have a chance to look at ancient beauty and enjoy some traditional street foods in summer. A short distance from the Old Quarter is Hoan Kiem Lake – an ideal relaxed place for tourists with fresh air and a lot of traditional games on the weekends. Hanoi is also home to numerous temples and pagodas that are worth a visit for their architecture such as Tran Quoc Pagoda – the oldest one in Hanoi, Ho Chi Minh Mausoleum, and Temple of Literature – a place attracting a lot of artists and writers.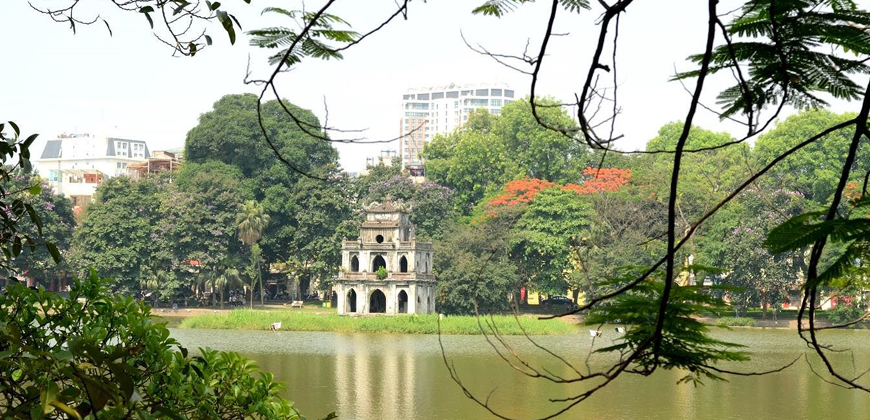 Hoan Kiem Lake, Hanoi
Seeing National Flowers
Lotus is considered as the national flower of Vietnam. In Vietnamese culture, the lotus flower symbolizes optimism, dedication, purity and calmness. Furthermore, it is very interesting that in Buddhism, each colour of lotus flower is the symbol of different traits, for example, the white lotus for clearness of spirit and mind and the blue lotus for common sense. If you travel to Hanoi in June, you can see these majestic flowers growing in many places, especially in Dam Sen in West Lake.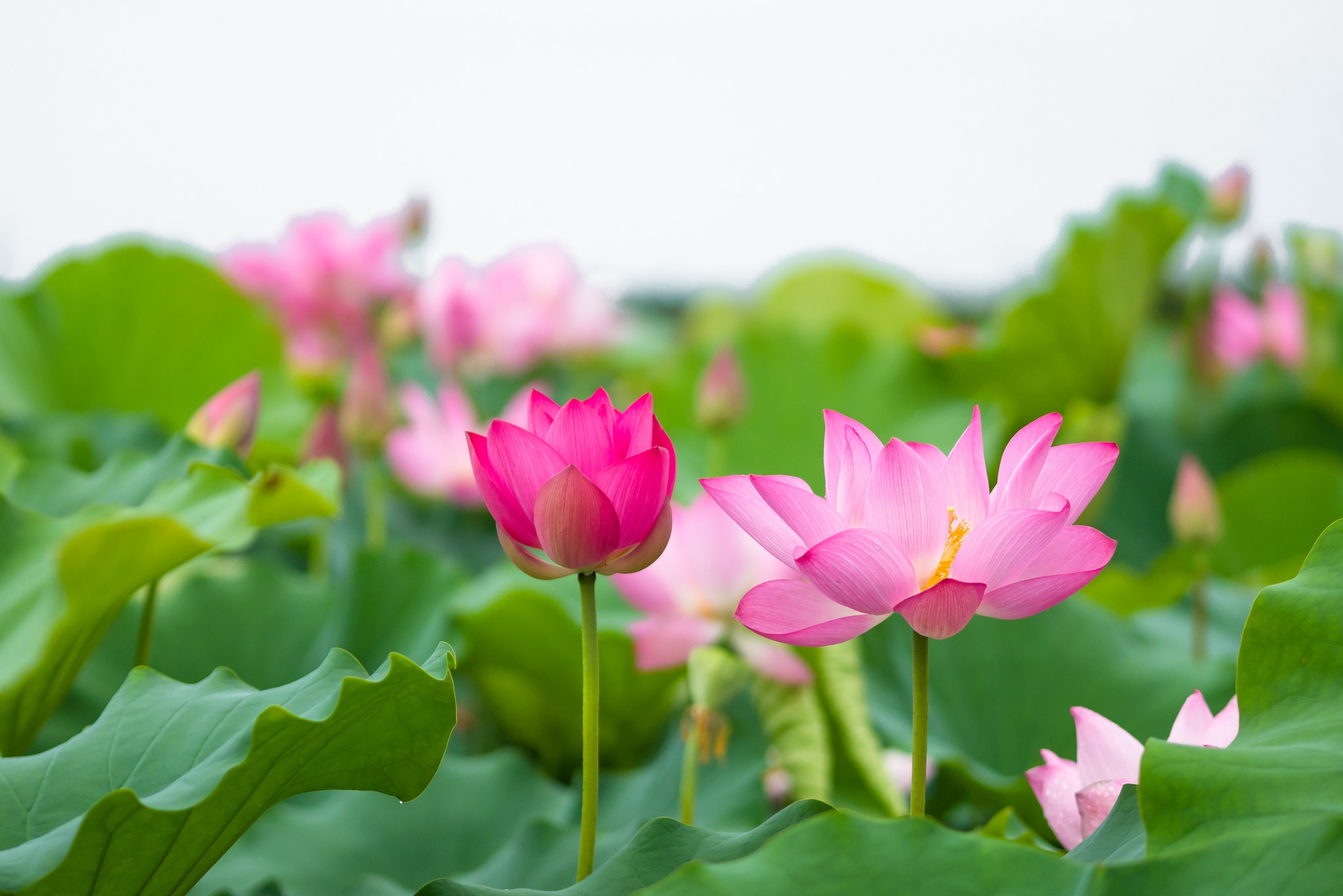 Lotus Flowers in West Lake
Shopping
June is the season of many kinds of fruits such as watermelon, pineapple, lychee, mango and so on. So you can buy some of them with a bargain. For example, you can buy a kilo of mango with only 1$ in Hanoi in June, while it needs more in other months.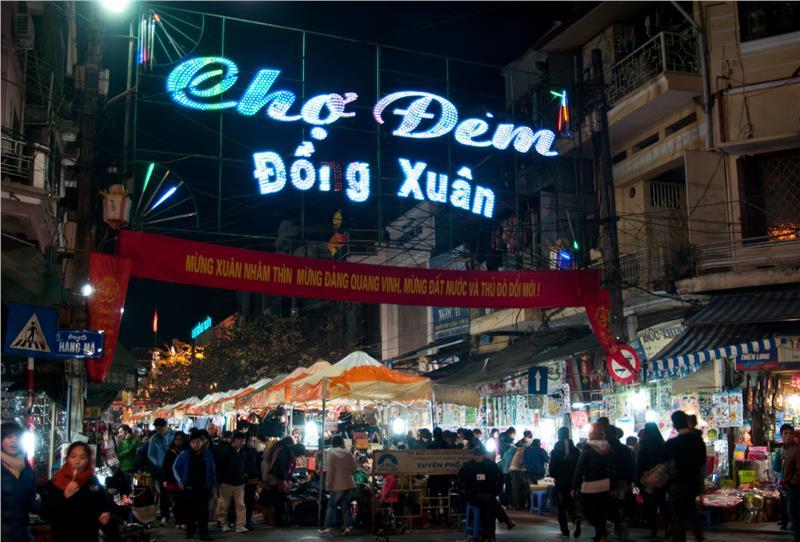 Dong Xuan Market
Best trips from Hanoi in June
+ Hoa Lu Tam Coc Day Trip from Hanoi:
From the late May to the late June, rice paddies along the Ngo Dong River start to change their colour from green to yellow. You can pay a visit to Hoa Lu Ancient Capital, and then do cycling from Hoa Lu to Tam Coc. Take a boat trip along the Ngo Dong River to see the beauty of Tam Coc and stop to discover mysterious caves here.