As a developing country located on the Pacific Ocean, Vietnam possesses many strengths to develop tourism. Indeed, in addition to new lands outside the territory, many excursion believers still choose to explore and check-in at Vietnamese tourist destinations. Not only finding new places to explore, visitors also feel and rediscover the heroic history of the nation, as well as the wonderful natural scenery of Vietnam.
Ha Long Bay - A UNESCO World Heritage Site
So, Let's find out Top 10 Best Places To Visit In Vietnam
1. Hanoi
Hanoi, the heart of Vietnam, the City of Peace recognized by UNESCO is a cannot be missed destination in your Vietnam trip. 4000 years of history, culture and lifestyle of Vietnamese converges in Hanoi.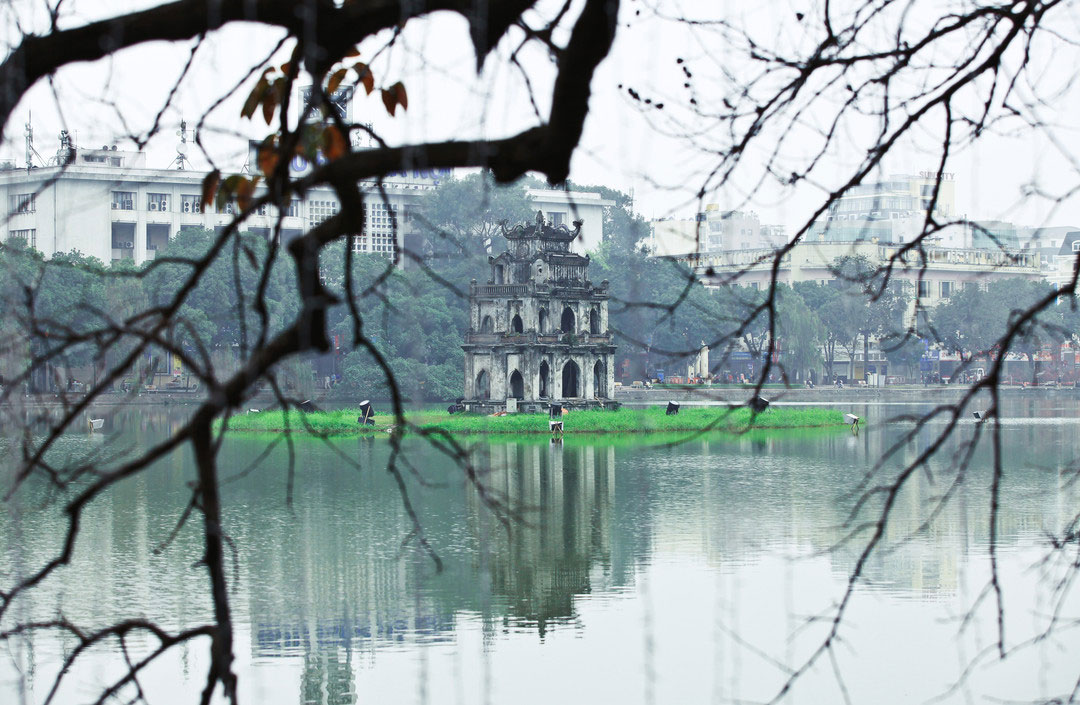 Hoan Kiem Lake
Hanoi is the capital city of Vietnam, located in the north of the country. It has a long and rich history. It is also a cultural hub, with influences from French and Chinese civilizations, as well as various religions. Hanoi is a vibrant and dynamic city, with many attractions for visitors to enjoy.
There are many things to do in Hanoi, Vietnam's capital city. You can explore the Old Quarter, visit historical sites like the Ho Chi Minh Mausoleum and the Temple of Literature, enjoy cultural shows at the Opera House, shop at Dong Xuan Market, or take a cruise to Halong Bay. You can also try delicious Vietnamese food like pho, bun cha, banh mi, and egg coffee.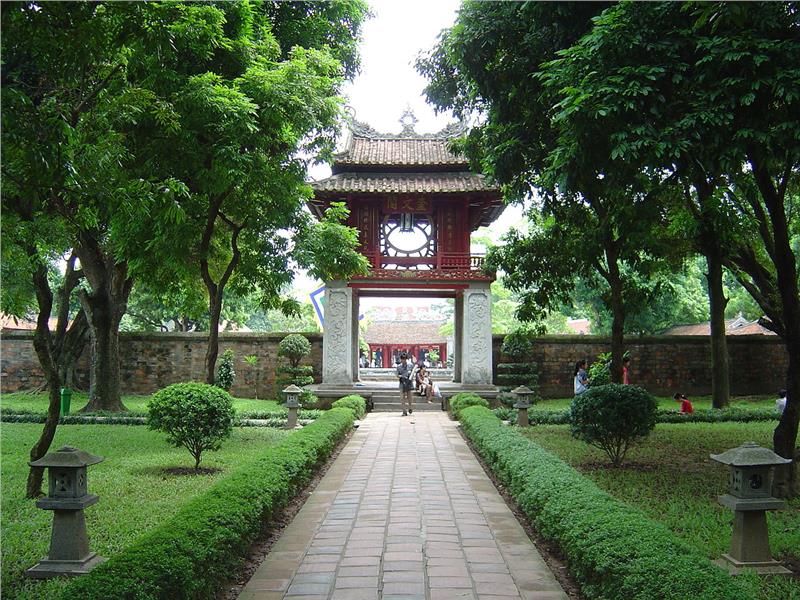 Temple of Literature
Read more: Hanoi Overview, what to do and what to see in Hanoi
2. Ha Long Bay
If you travel to Vietnam, Ha Long Bay is a must-see destination for you as it is beauty. A comfortable 3½-hour drive from Hanoi capital city, Ha Long Bay or the Bay of the Descending Dragon, which was twice recognized as the UNESCO natural heritage, is one of Vietnam's most prized treasures as well as the pride of all Vietnamese.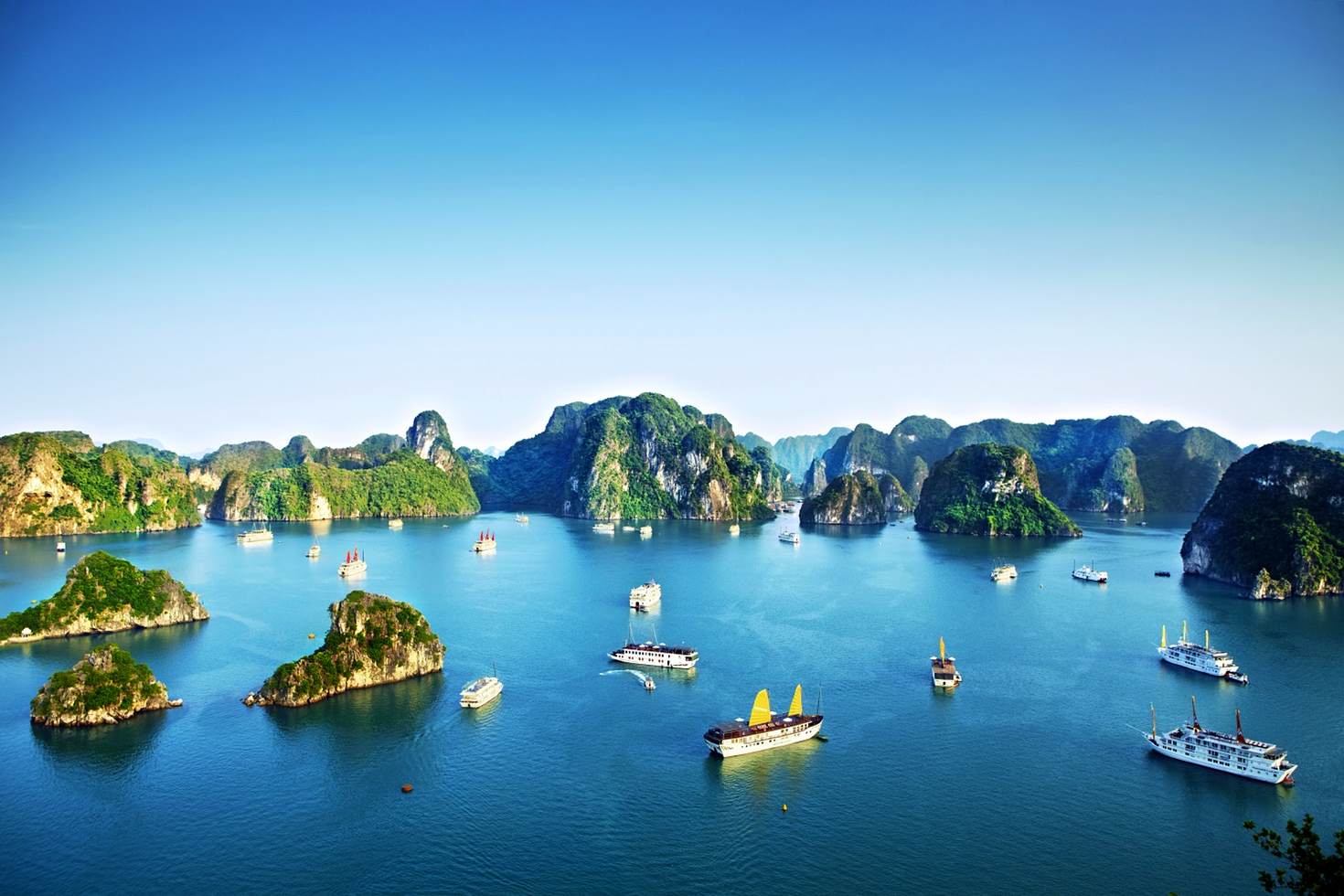 Ha Long Bay's Islands and Cruises
Ha Long Bay, whose tranquil beauty encompasses indigo sea and more than 3,000 limestone islands and rocky outcrops, is both mystical and magnificent making it an exceptional feat of nature that almost never fails to impress. Ha Long Bay is a UNESCO World Heritage Site and a popular travel destination in Vietnam.
It is famous fo r it s thousands of limestone islands and caves, which create a stunning seascape. You can enjoy various activities in Ha Long Bay, such as cruising, kayaking, swimming, hiking, or visiting floating villages.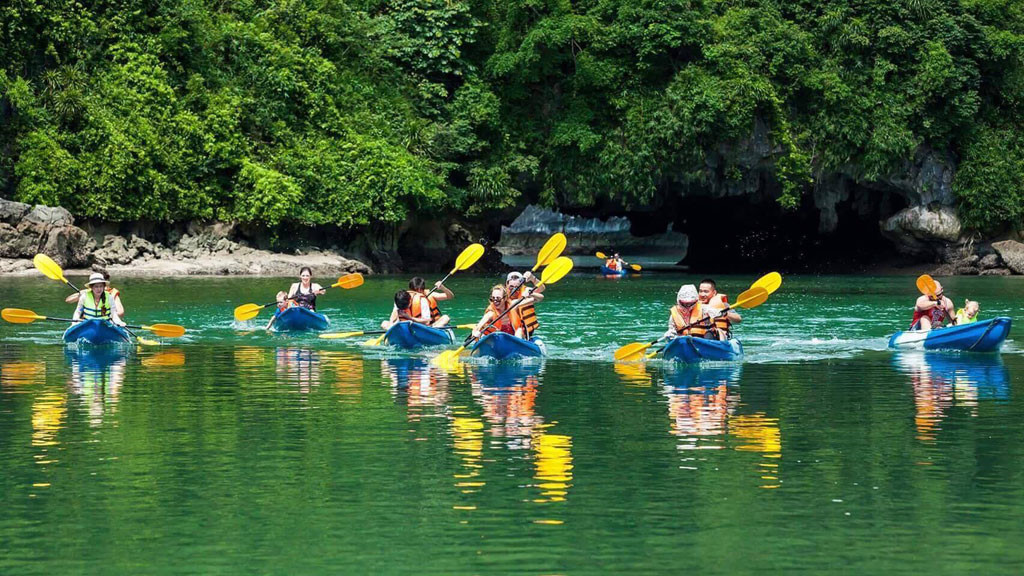 Kayaking in Ha Long Bay
The travel distance from Hanoi to Ha Long Bay is about 100 miles (160 km). The fastest way to get there is by car via the Hanoi-Hai Phong highway, which takes about 2.5 hours. You can also take a bus, a minivan, a train, a taxi or a seaplane.
Read more: Ha Long Bay Overview, what to do and what to see in Ha Long Bay
3. Sapa
Sapa is one of the best places in North Vietnam. When travelers visit Vietnam and North Vietnam, Sapa is a must-see for admiring the natural beauty and learning about the local life. Located about 350 km to the north-west of Hanoi, Sapa District in Lao Cai Province, is a very soothing place to visit, an attractive little town set over steep hills attracting a large number of international travelers for its views and topographic mountains at the average height of 1500m- 1800m, for its impressive, rugged scenery as well as for its rich cultural diversity.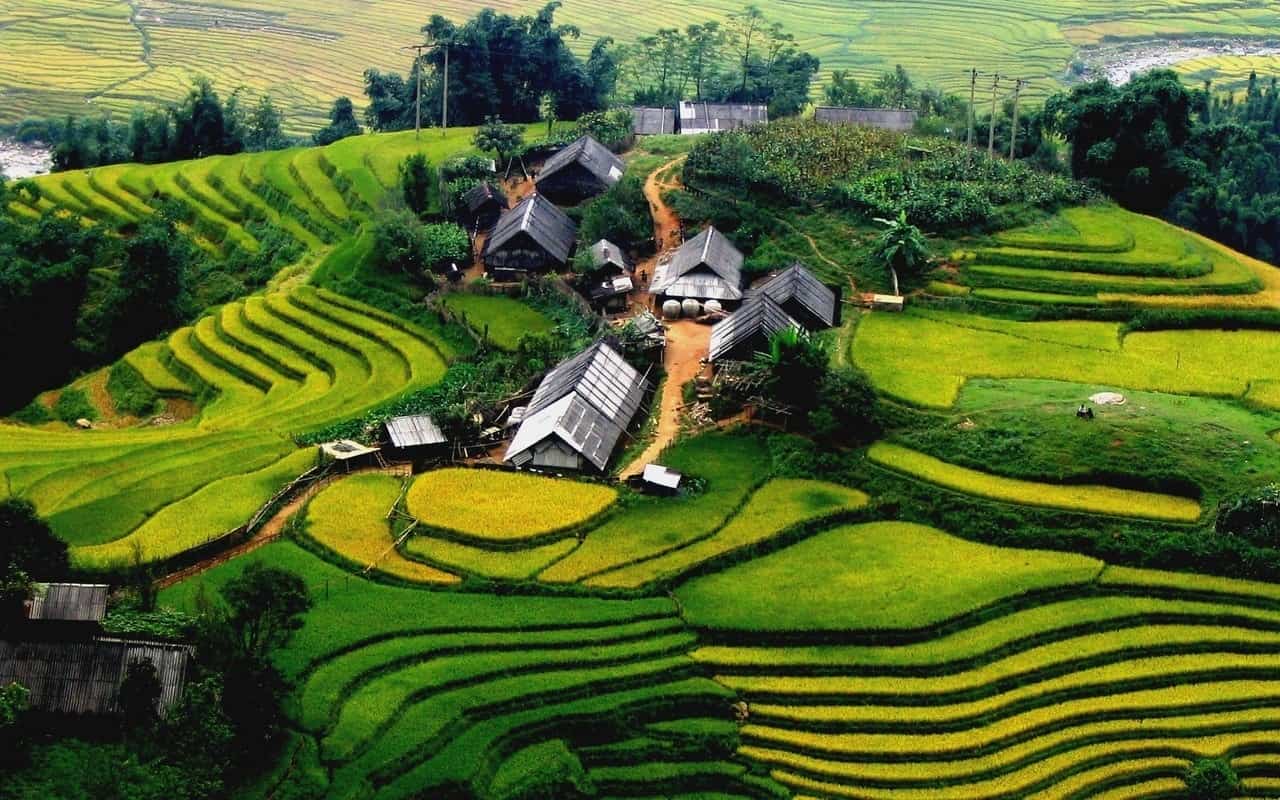 Ta Phin Village
Sapa offers some of Vietnam's best trekking, with stunning views of rice terraces, waterfalls and villages. You can also experience the culture and lifestyle of various ethnic groups, such as the Hmong, Dao, Tay and Giay.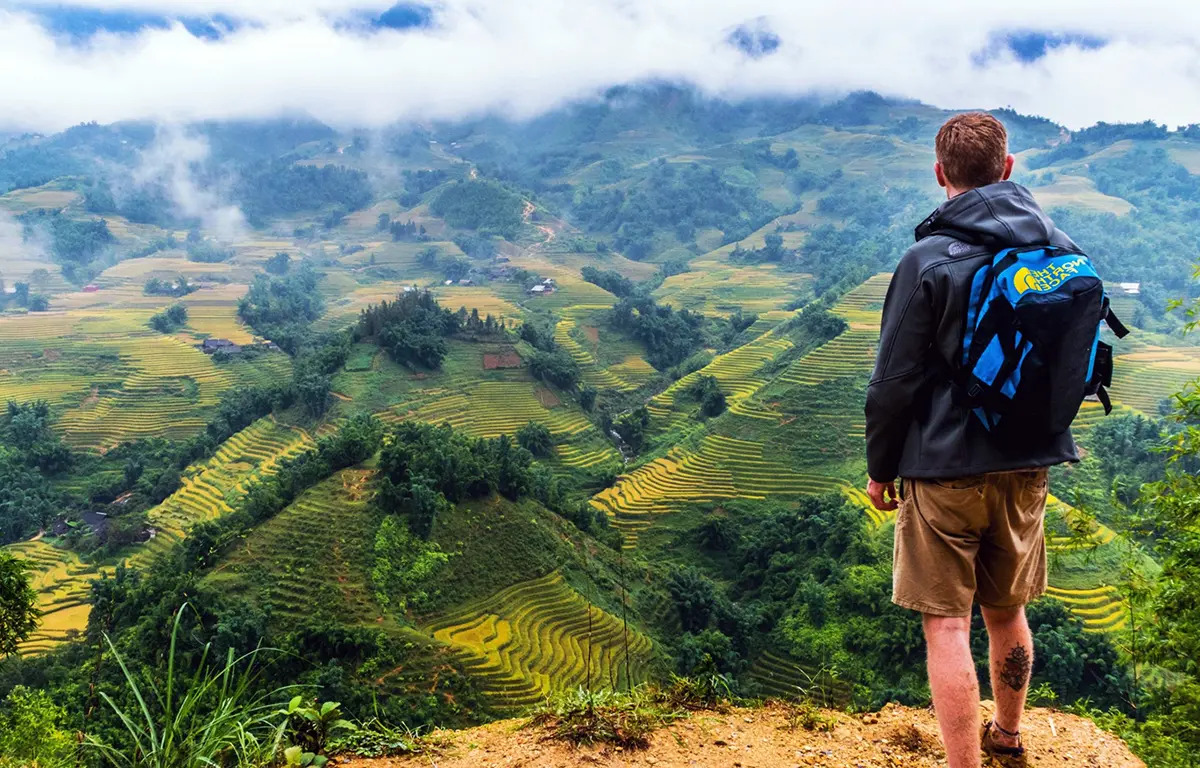 Trekking in Sapa
Read more: Sapa Overview, what to do and what to see in Sapa
4. Ha Giang
Ha Giang is a province in the far north of Vietnam, bordering China. It is known for its spectacular scenery of limestone mountains, winding roads and colorful ethnic markets. Ha Giang is a great destination for adventurous travelers who want to explore the remote and untouched beauty of Vietnam.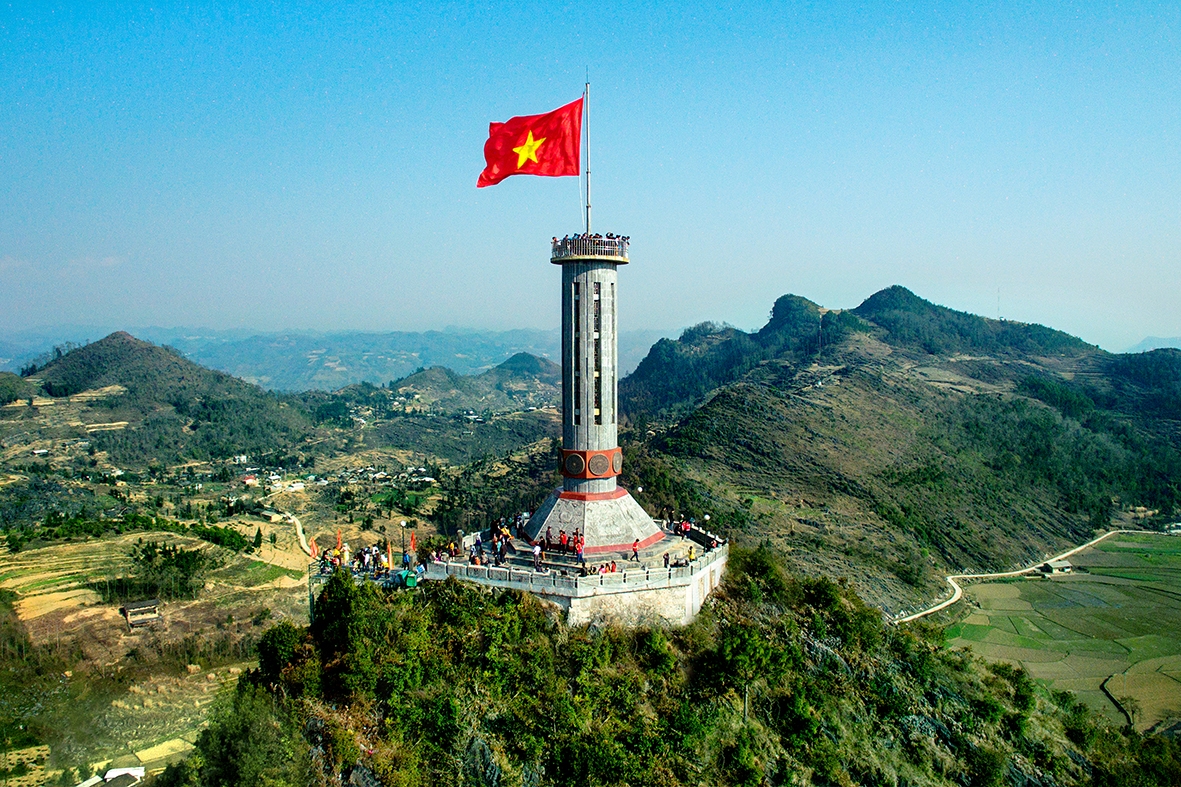 Lung Cu Tower
Some of the best things to do in Ha Giang:
Visit Milestone KM 0 at the city centre of Ha Giang.
See Twin Mountain Quan Ba which looks like two breasts rising from the rice field.
Explore Yen Minh Pine Forest which has a peaceful and romantic atmosphere.
Visit Lung Cu Flagpole which marks the northernmost point of Vietnam with a giant flag waving on top of a tower.
Learn about Hmong culture at Sung La Village which is also known as Flower Hmong Village because of their colourful costumes and houses decorated with flowers.
Shop for local products at Dong Van Market which is held every Sunday morning with various goods such as clothes, food, handicrafts and livestock.
5. Hoi An
Hoi An is a beautiful city in Vietnam's Quang Nam Province and a UNESCO World Heritage Site since 19991. It has a rich history and culture, with influences from Chinese, Japanese and French architecture. It is also surrounded by rivers, rice paddies, beaches and countryside.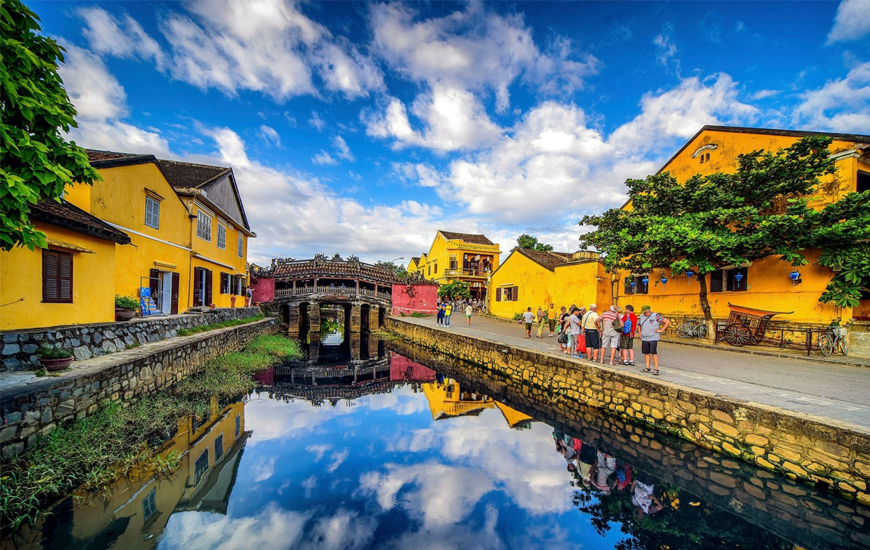 Hoi An Ancient Town
You can enjoy many activities in Hoi An, such as cycling, boating, café-hopping, shopping, visiting ancient te mples and bridges, or relaxing on the sand. Some of the popular attractions in Hoi An are Japanese Covered Bridge, Hoi An Ancient Town, Hoi An Night Market and ALLEY Artist House.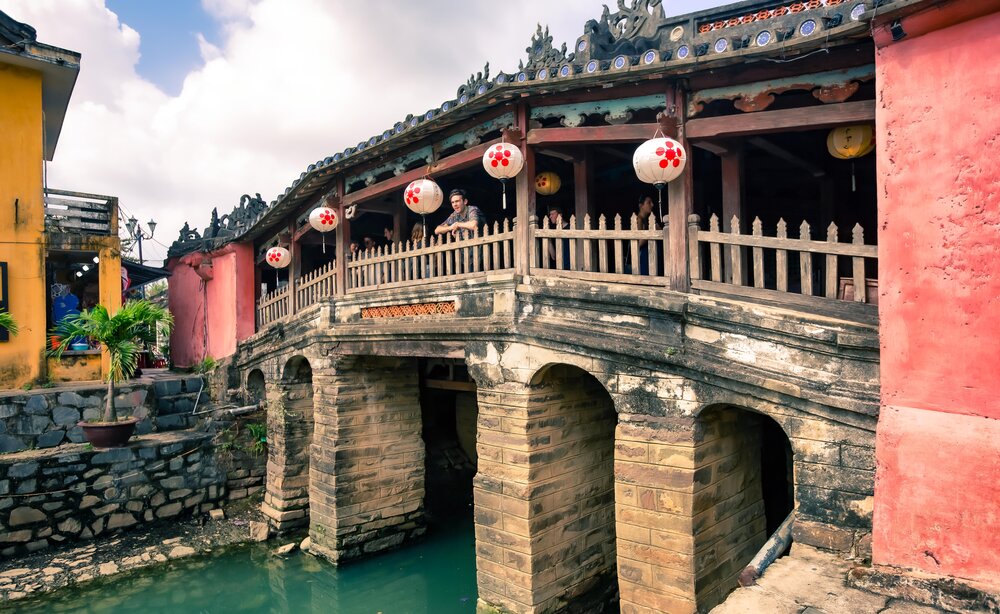 Japanese Covered Bridge
The best time to visit Hoi An is from February to May when there's plenty of sunshine, clear skies and warm temperatures. You can also experience some of the local festivals such as the Lantern Festival or the Full Moon Festival during this time.
Read more: Hoi An Overview, what to do and what to see in Hoi An
6. Hue
Hue
was the capital of Vietnam in 1802 - 1945. The city is located in the central part of the country, on the banks of the Huong Giang River or Perfume River, approximately halfway between Hanoi and Ho Chi Minh City and 2 hour-drive from Da Nang. It is famous for its imperial citadel, tombs, temples and pagodas that reflect its glorious past. It is also a cultural and religious center with many festivals and traditions.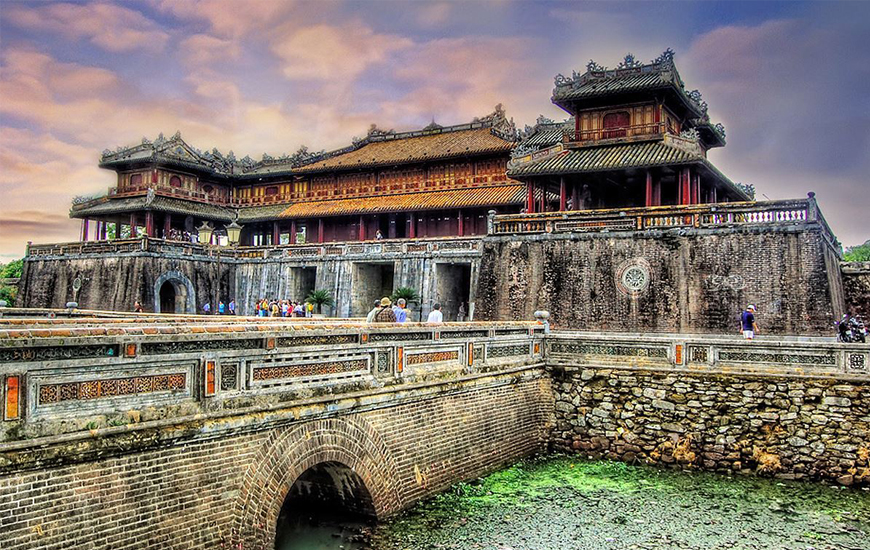 The Imperial City
Hue is usually visited with an excursion to see the Imperial Citadel, ancient temples, pagodas and tombs. Some of them are declared by the UNESCO as the world heritage of mankind. The inspection can take from 2 to 5 days, depending on the number of places that you've already planned to visit.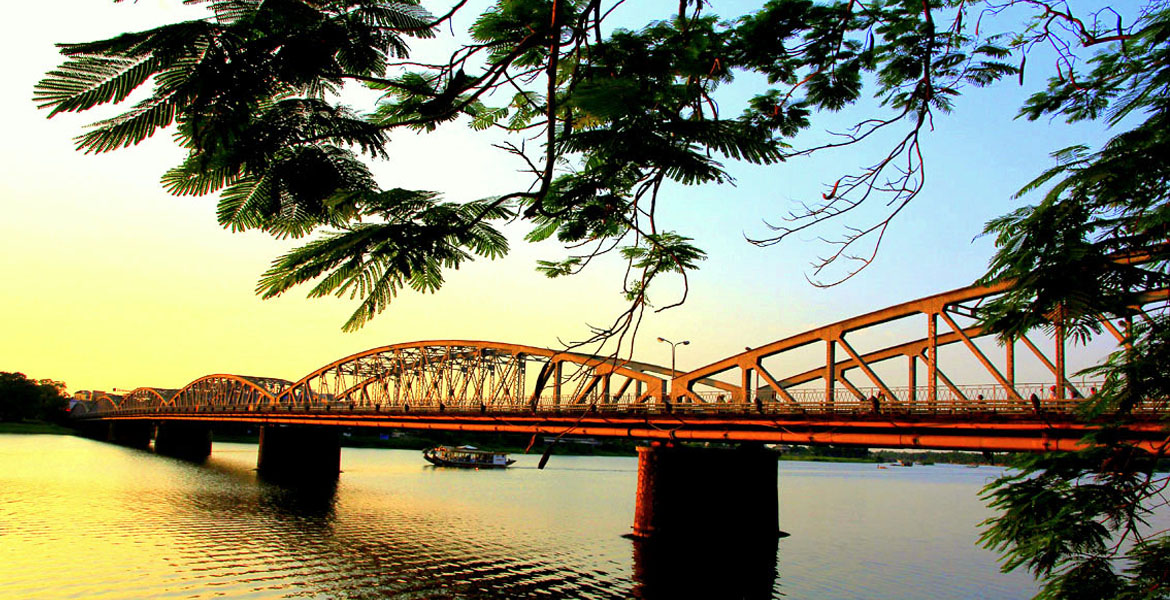 Perfume River and Trang Tien Bridge
Read more: Hue Overview, what to do and what to see in Hue
7. Da Nang
Located in the middle of Central Vietnam, between Hanoi and Ho Chi Minh City , Da Nang City is not only one of the biggest cities in Vietnam but also one of the cultural and educational centers as well as the most popular tourist destination of the S-shaped country.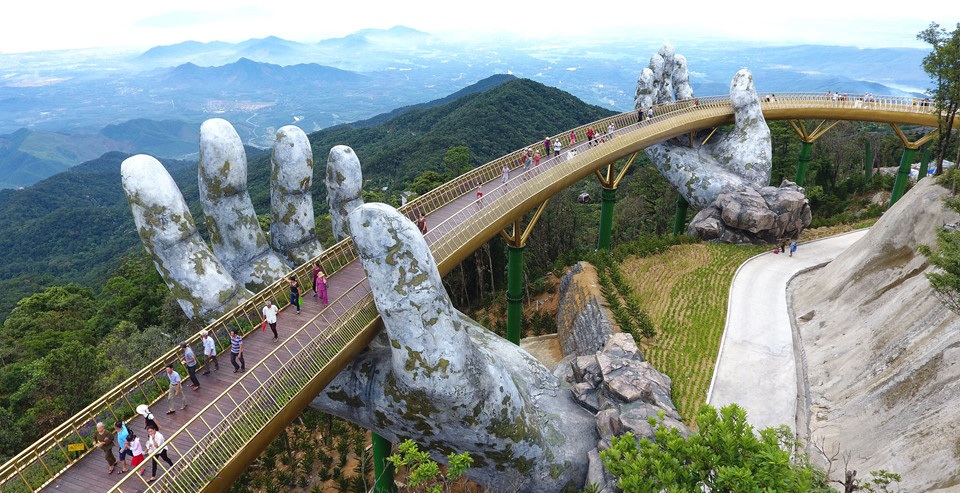 The Golden Bridge
Da Nang is a coastal city in central Vietnam, known for its modern development, beautiful beaches and cultural attractions. Da Nang is a convenient travel hub to explore the central region of Vietnam, as it has an international airport and connections to trains and buses.
Some of the popular places to visit in Da Nang are: The Marble Mountains, a group of five limestone hills with caves, pagodas and views of the city. The Dragon Bridge, a spectacular bridge that spans the Han River and breathes fire on weekends. The Ba Na Hills, a resort complex on a mountain with a cable car, a theme park and a replica of a French village. The Son Tra Peninsula, a natural reserve with beaches, forests and wildlife. The Cham Museum, a museum that displays artifacts from the ancient Cham civilization that ruled central Vietnam.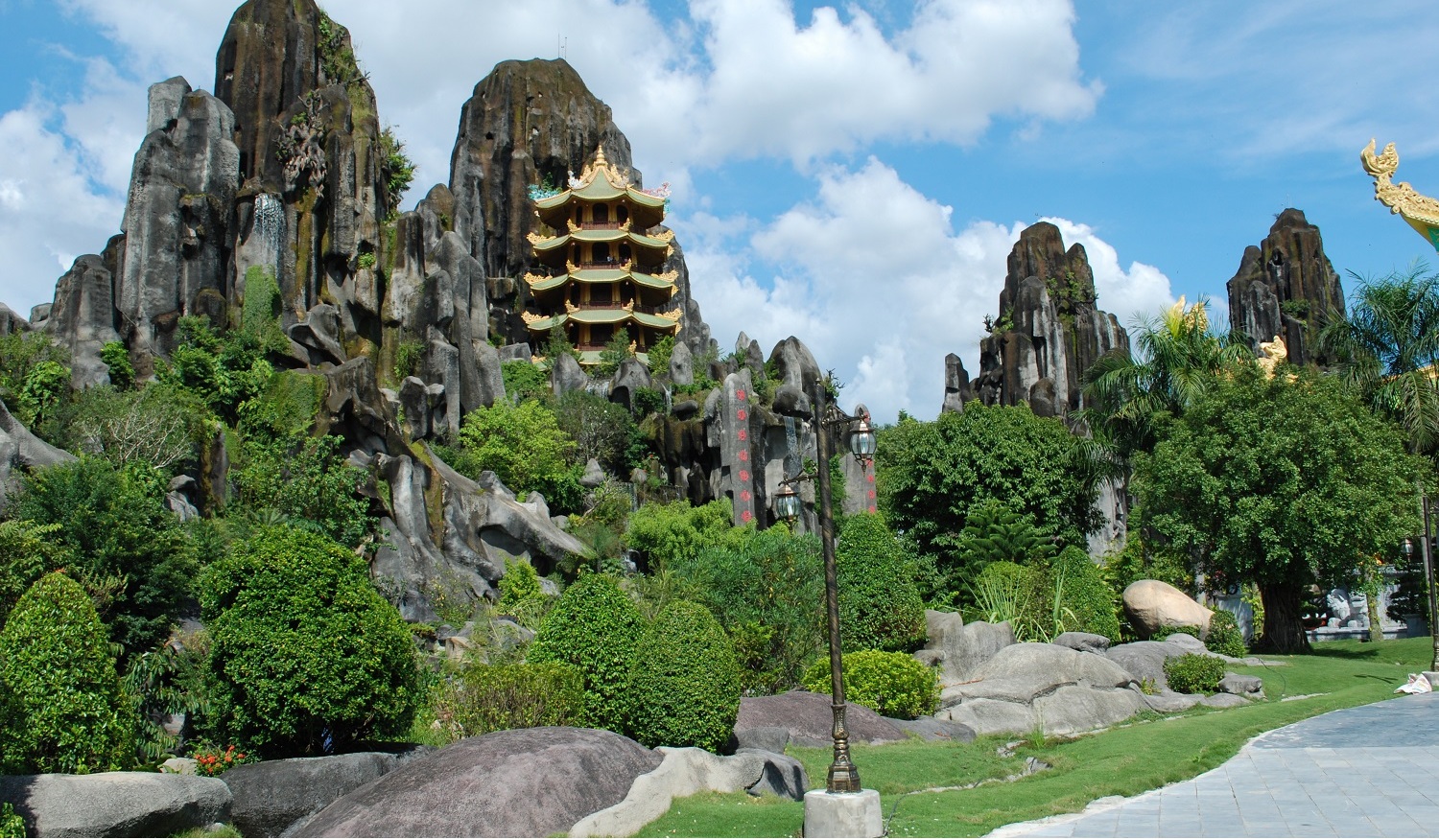 The Marble Mountain
Read more: Da Nang Overview, what to do and what to see in Da Nang
8. Phu Quoc
Covering 515 sq. km (199 sq. mi), the same size as Phuket in Thailand, Phu Quoc, which is 50kms from the Vietnamese mainland, is the largest island in Vietnam really famous for its resorts and beautiful white sand beaches.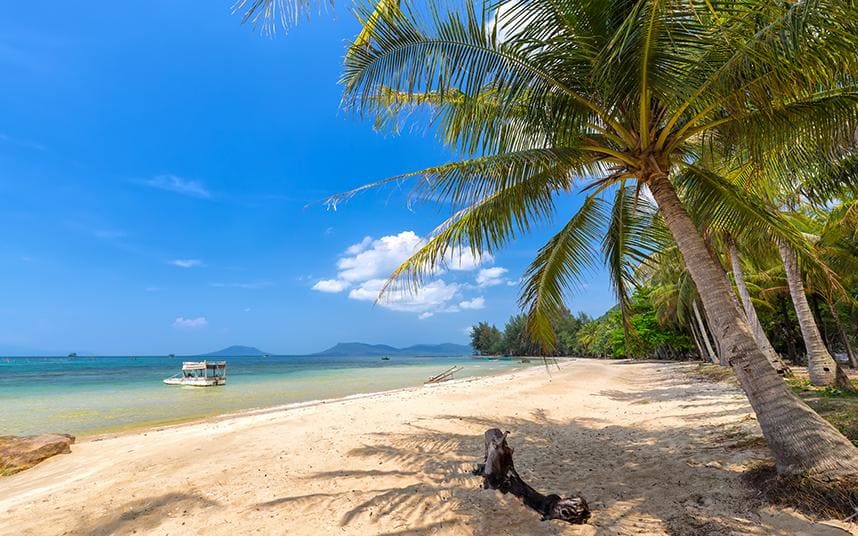 Phu Quoc Island

Phu Quoc is an island in Southern Vietnam, famous for its tropical beaches, coral reefs and natural parks. Phu Quoc is Vietnam's largest island and a popular destination for water sports, such as snorkeling, diving and kayaking.
Some of the attractions on Phu Quoc are: The Phu Quoc National Park, a protected area that covers more than half of the island and hosts diverse flora and fauna. The Vinpearl Land Phu Quoc, a resort complex with a theme park, a safari park and a golf course. The Dinh Cau Rock Temple, a shrine dedicated to the sea goddess that overlooks the fishing harbor. The Phu Quoc Prison Museum, a historical site that displays the harsh conditions of prisoners during the Vietnam War. The Duong Dong Night Market, a lively market where you can find seafood, souvenirs and local specialties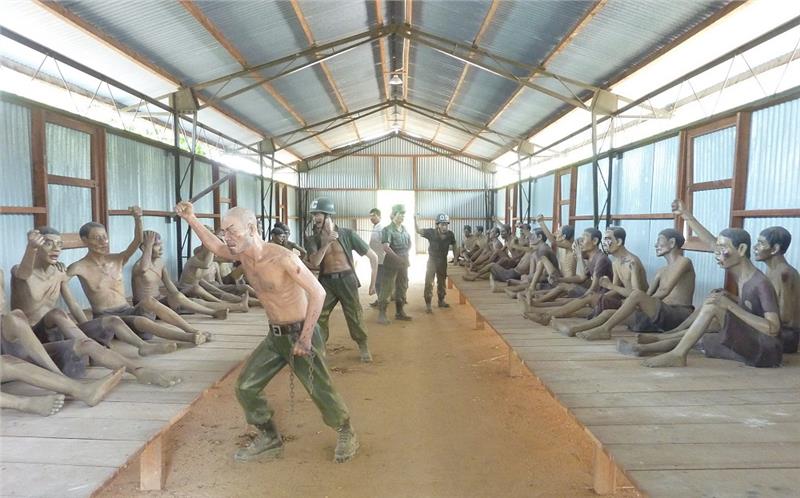 Phu Quoc Prison
Read more: Phu Quoc Overview, what to do and what to see in Phu Quoc
9. Ho Chi Minh City
Ho Chi Minh City (the old name of the city is Saigon) is the largest city in Vietnam, the locomotive of the Vietnamese economy, and the most important cultural and educational center of the country. Ho Chi Minh City is the largest metropolitan city in the South of Vietnam, in a picturesque place, in the Mekong Delta.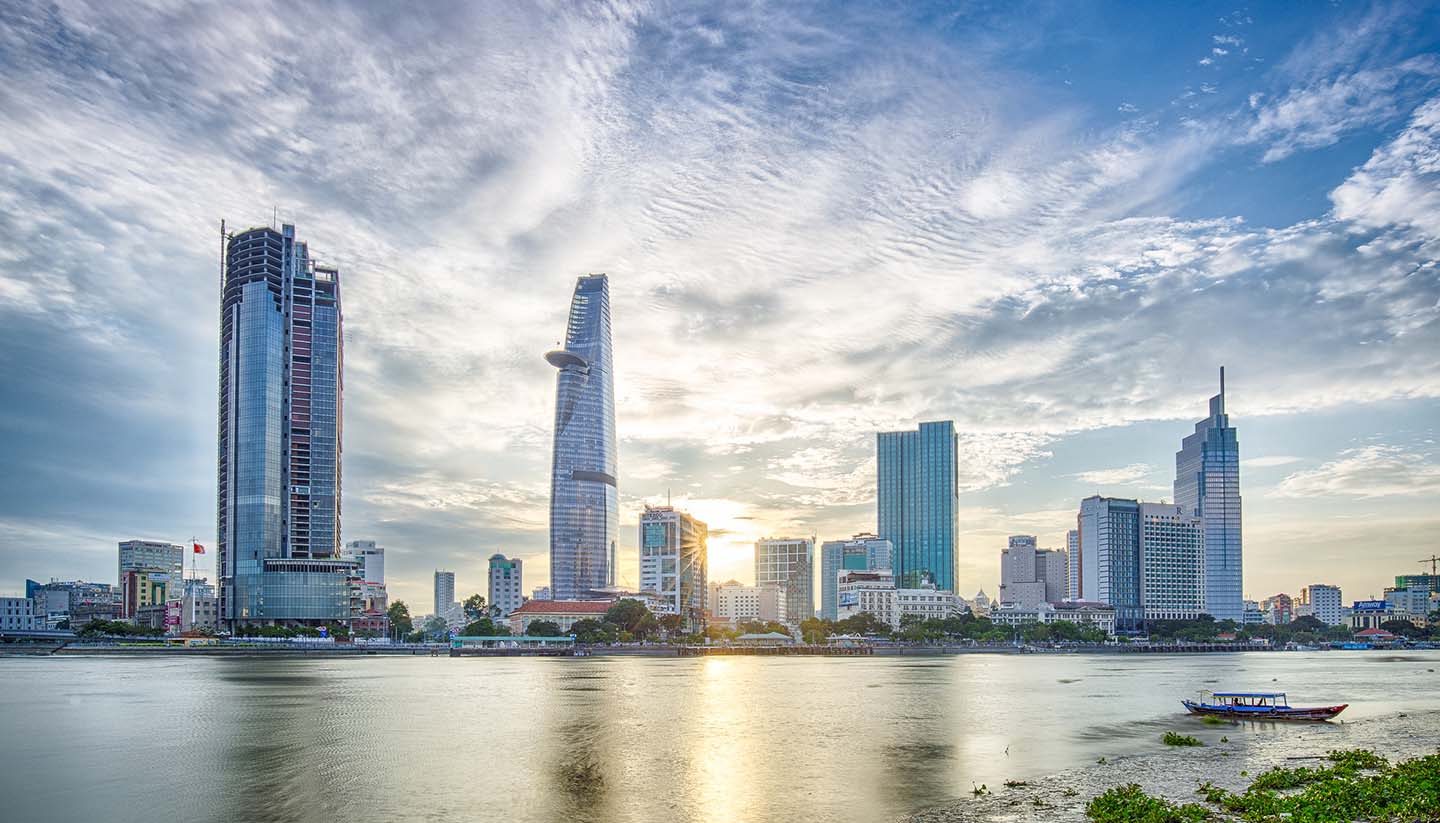 Romantic Sunset in Ho Chi Minh City
The southern capital of Vietnam is more than a curious tourist destination. Whatever the traveler wants - rich excursions or a bustling nightlife, exotic Vietnamese cuisine or the usual European dishes, chic hotels or budget guesthouses are not difficult to find in Ho Chi Minh City.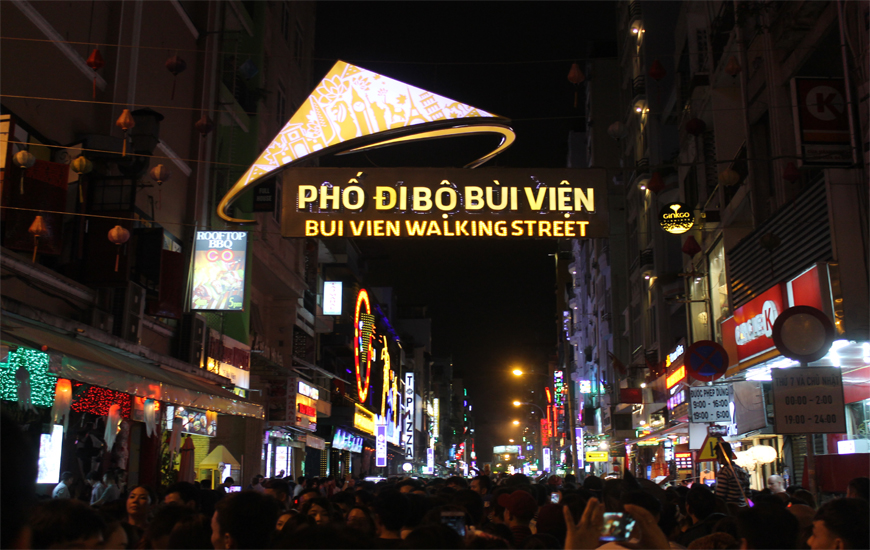 Bui Vien Walking Street at night
Read more: Ho Chi Minh City Overview, what to do and what to see in Ho Chi Minh City
10. Mekong Delta
The Mekong Delta is a region in southwest Vietnam, where the Mekong River splits into many branches and canals before reaching the sea. The Mekong Delta is known for its rich biodiversity, agricultural production and cultural diversity. The Mekong Delta has a long history of human settlement and cultural diversity. It was part of the ancient civilizations of Funan and Chenla, which flourished between the 1st and 9th centuries AD. It has been influenced by various cultures, such as Khmer, Vietnamese, Chinese, and French.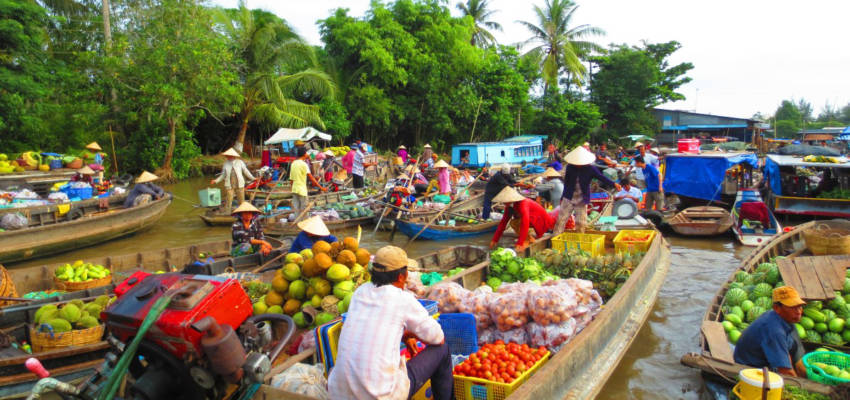 Floating Market in Mekong Delta
Some of the activities and attractions in the Mekong Delta are: Taking a boat tour along the waterways and visiting floating markets, villages and islands. Exploring the natural beauty and wildlife of national parks, such as Tram Chim, U Minh Thuong and Tra Su. Learning about the history and culture of different ethnic groups, such as Khmer, Cham and Chinese. Sampling local delicacies, such as coconut candy, snake wine and elephant ear fish.

Read more: Things to do in Vietnam's Mekong Delta
Vietnam's S-shaped land is a remarkable tourist destination, offering all sorts of experiences from trekking in the mountains, relaxing in urban night lights, resting on the beach, enjoying delicious food, and more.
Each destination in Vietnam has its own meaning to make each trip an unforgettable memory.
And it's not just about the 10 best places to visit in Vietnam above; This country has many things waiting for you to discover along the way. Prepare well for your trip to Vietnam and be ready for the surprises to come. Please contact incredibleasiajourneys.com to plan your own holidays in Vietnam.