Sapa, located in the Northwest of Vietnam, is a wonderful destination for travelers who love nature, culture, and adventure. This mountainous region boasts stunning views of rice terraces, valleys, waterfalls, and peaks. It's also home to several ethnic minorities such as the H'Mong, Dao, and Tay who have preserved their unique traditions and lifestyles for centuries.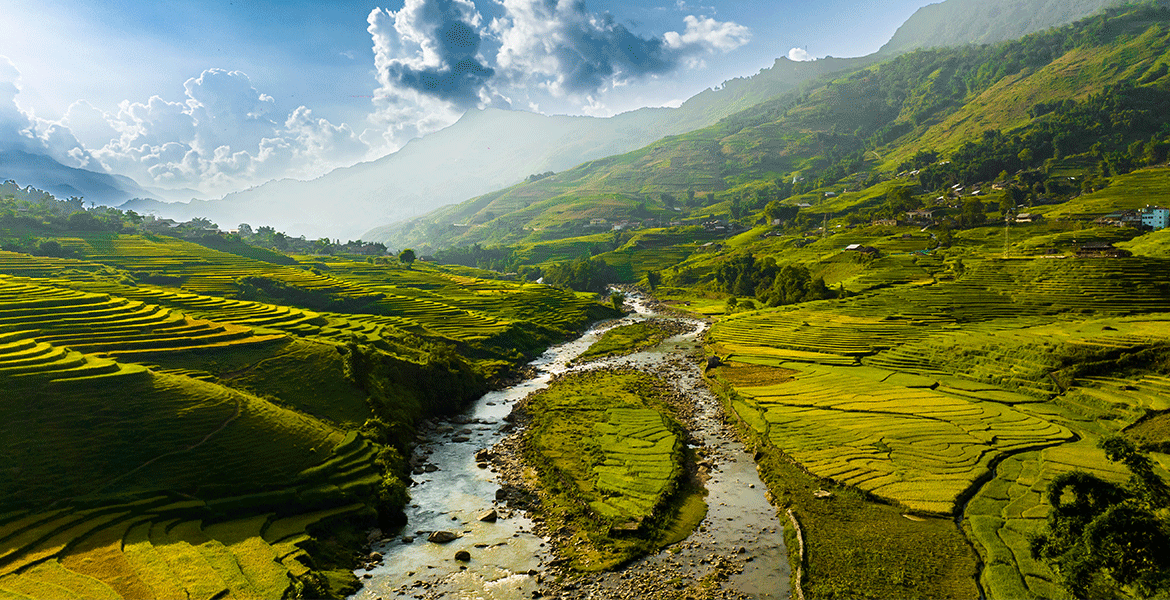 The beautiful picture of Sapa
Trekking is definitely the best ways to explore the nature of Sapa. It allows you to immerse yourself in the beauty and diversity of the landscape while interacting with local people and learning about their culture. However, trekking in Sapa requires preparation and planning as there are different levels of difficulty, routes, and options to choose from. In this article, we will share tips and advice on planning your Sapa trekking adventure based on our experience and research.
When is the best time to enjoy trekking in Sapa?
Not every season is ideal for trekking in this mountainous region. You need to consider the weather, the scenery, and your preferences before you book your trip. Here are some tips on when to go trekking in Sapa and what to expect in each season.
Spring (March-May): This is a great time to go trekking in Sapa if you love sunny days and blooming flowers. The weather is dry and moderate, with temperatures ranging from 15°C to 25°C. The plants and trees are starting to grow after the winter, creating a vibrant green landscape. This is also the time when the local people are planting rice in the terraced fields, which is an interesting sight to witness. Spring is a good season for solo trekkers who want to avoid the crowds and enjoy some peace and quiet on the trails.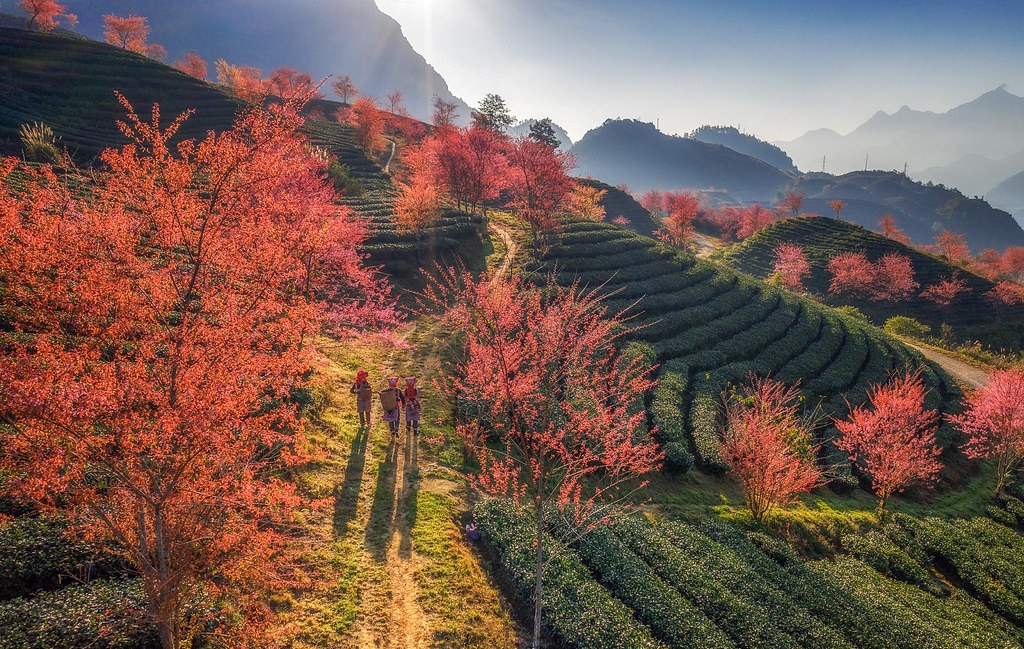 Sapa in Spring
Summer (June-August): This is the rainy season in Sapa, which means you will encounter humid and wet conditions on your trek. The temperatures can reach up to 30°C, but the rain can cool things down quickly. The rain can also make the trails muddy and slippery, so you need to be careful and wear proper shoes. On the bright side, summer is when Sapa is at its greenest and most lush. You can also enjoy some waterfalls and streams along the way. The rain does not last all day, so you can still have some sunny hours to admire the scenery.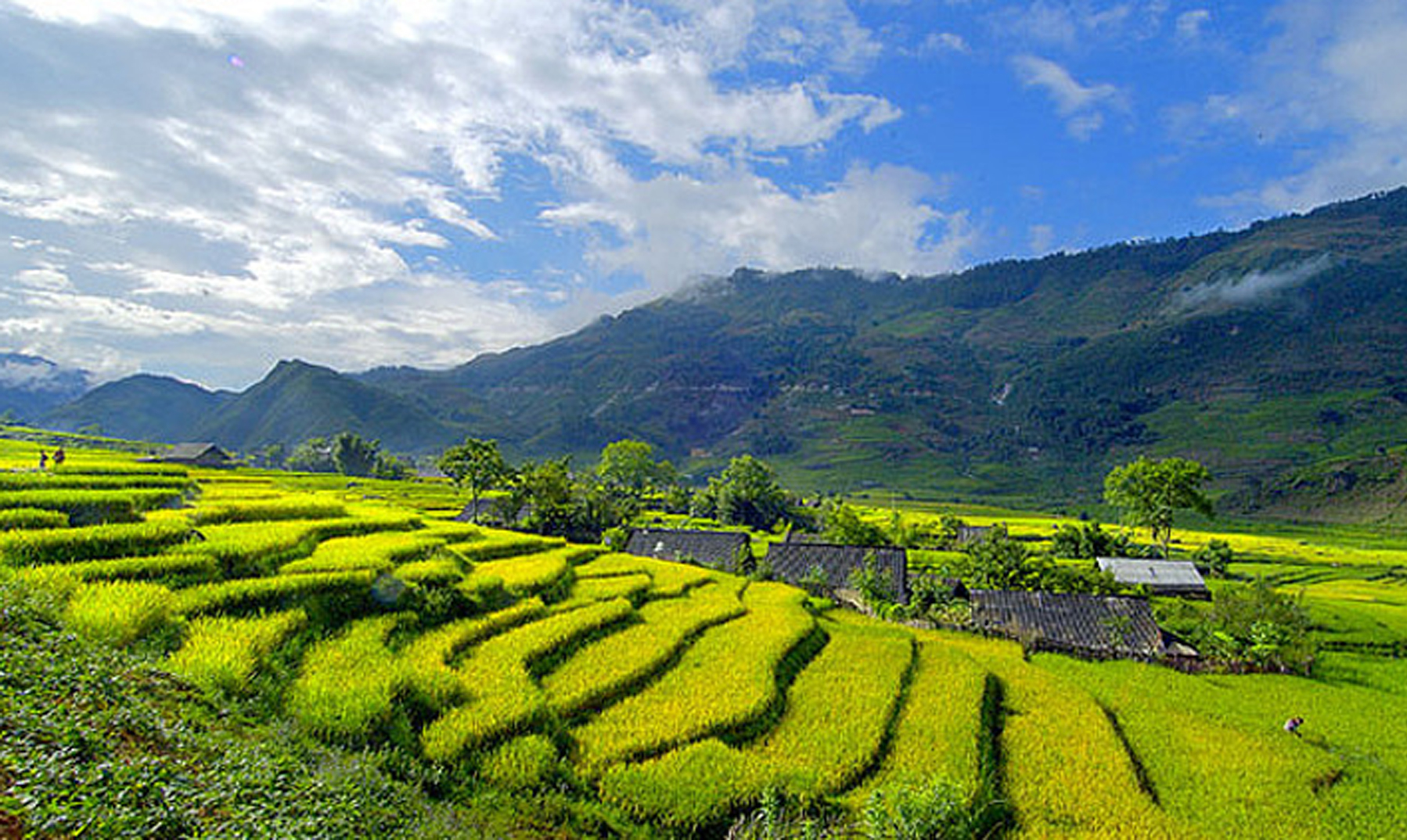 Sapa in Summer
Autumn (September-November): This is another excellent time to go trekking in Sapa if you want to see the golden hues of the rice harvest. The weather is still dry and pleasant, with temperatures between 15°C and 28°C. The rice fields are at their most photogenic, with beautiful shades of green and yellow. This is also the best time to climb Fan Si Pan, as the visibility is high and the views are spectacular. However, autumn is also the high season in Sapa, so expect more tourists and higher prices.
Sapa in Autumn
Winter (December-February): This is the coldest season in Sapa, with temperatures dropping as low as 0°C. You may even see some snow on the higher peaks, which can be a rare and magical experience. However, winter also brings fog and mist, which can reduce your visibility and affect your views. The trails can be icy and slippery, so you need to wear warm clothes and layers. Winter is a good season for adventurous trekkers who want to challenge themselves and see a different side of Sapa.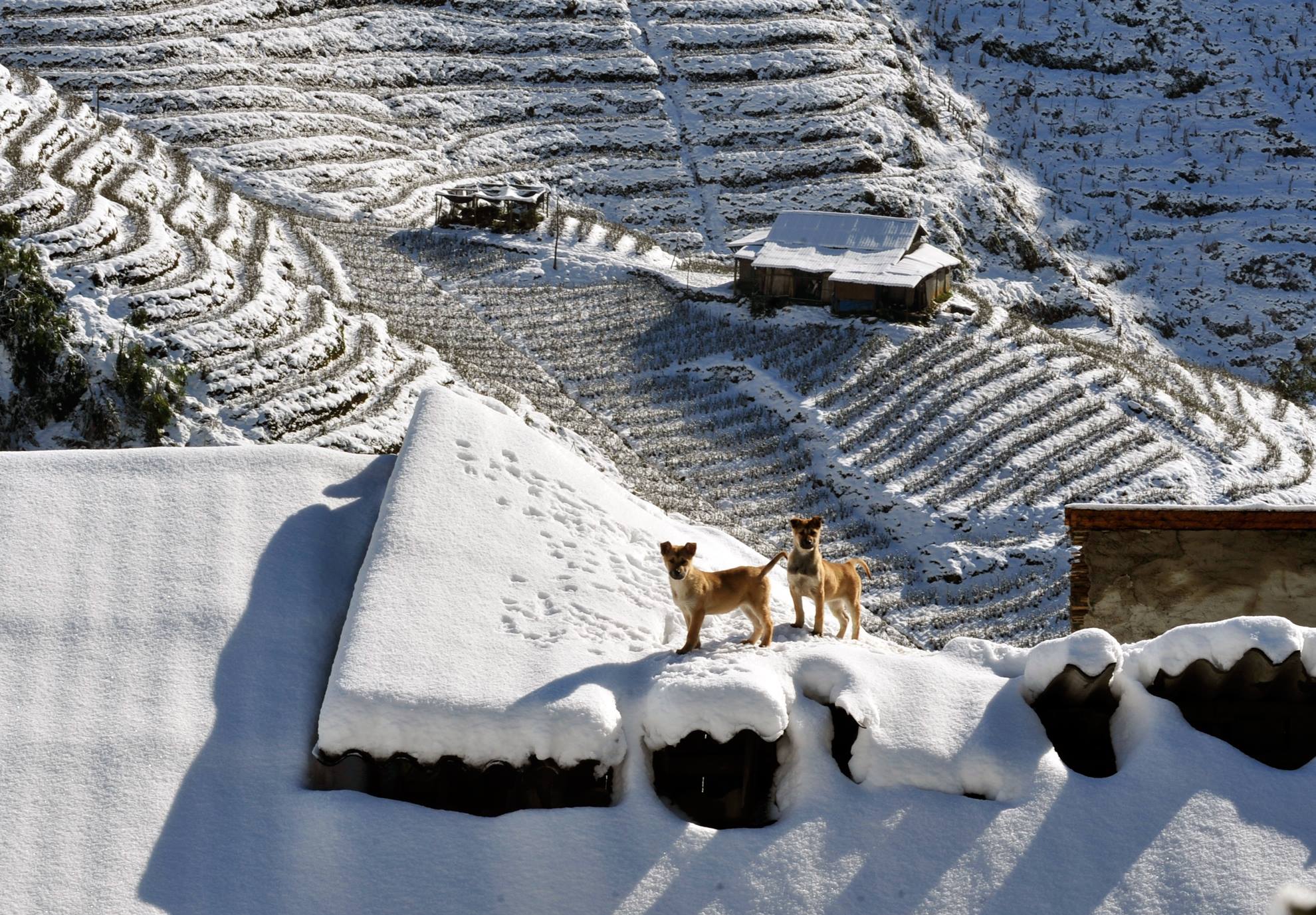 Sapa in Winter
Choose Your Trekking Difficulty Level
Before embarking on your trekking adventure in Sapa, it's important to decide on the level of difficulty you want to experience. Sapa offers three main levels of trekking difficulty: easy, medium, and hard.
Easy Trekking: Perfect for beginners or those looking for a leisurely walk. These treks typically last one to two days and cover 10-15 km per day. You'll enjoy views of rice fields, mountains, and villages. You'll also visit ethnic minority villages such Lao Chai, Ta Van where you can stay overnight at a homestay or hotel.
Medium Trekking: Ideal for intermediate or experienced trekkers seeking a bit more challenge. These treks usually last two to three days and cover 15-20 km per day. You'll follow a similar route as the easy treks but add a detour to Cat Cat Village, an old village of the Black H'Mong people at the foot of Fansipan Peak. You'll also climb hills and cross streams and bridges along the way.
Hard Trekking: For adventurous or expert trekkers looking to test their limits. These treks typically last three to four days and cover 20-25 km per day. Your goal will be to reach the summit of Fansipan Peak, the highest mountain in Indochina at 3143 m above sea level. You'll pass through various terrains such as bamboo forests, waterfalls, rocky slopes, and snowfields while camping at different altitudes along the way.
Choose Your Trekking Option
The last thing you need to decide is how you want to organize your trekking trip. There are two main options: booking a tour or going independently.
Booking a tour: This option is more convenient and hassle-free, as you don't have to worry about transportation, accommodation, food or guides. You can compare prices, reviews and itineraries online or offline before booking your tour. The advantages of booking a tour are that you can save time and money, meet other travelers and support local communities. The disadvantages are that you have less flexibility and freedom, may encounter large crowds or scams and may have a lower quality of service or experience.
See our best Sapa Trekking Tours: Sapa Trekking & Bac Ha Market , Sapa Trekking & Explore , Sapa Trekking Tour with Train , Sapa Cycling & Trekking Tour , Sapa Trekking Tour with Bus , Sapa Adventure By Trekking Tour
Going independently: This option is more adventurous and flexible, as you can plan your own trip according to your preferences and budget. You can arrange your own transportation from Hanoi to Sapa by train or bus, book your own accommodation in Sapa town or homestays, buy your own food from markets or restaurants and hire your own guide or porter from local agencies or villages. The advantages of going independently are that you have more control and choice over your trip, can avoid tourist traps or crowds and can have a more authentic or personal experience. The disadvantages are that you have to spend more time and effort on planning and logistics, may face some difficulties or risks on the way and may miss out on some information or insights from professional guides.
Amazing treks in Sapa
1. Lao Chai & Ta Van Villages
Experience the magic of green rice fields and small houses nestled in the misty mountains This trek will take you to the world of traditional hill tribe villages and their rice terraces. You will follow a small path, cross the Muong Hoa River and see the homes of Lao Chai and Ta Van villages. You will learn about the rice cultivation, and the cultures of ethnic minorities such as Black Hmong, Zay, Red Dao.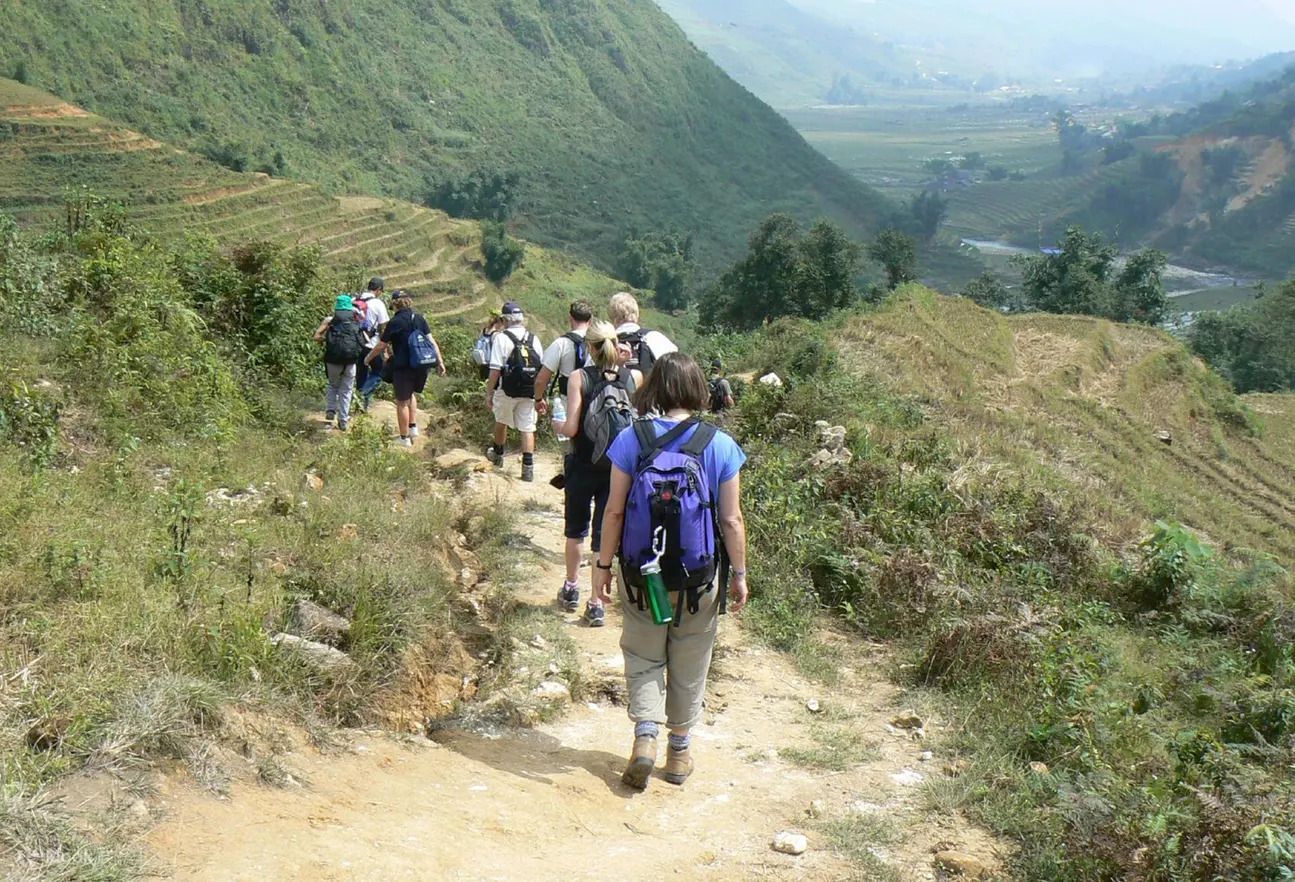 Trekking in Ta Van Village
Duration: 1 day
Trekking level: Easy – Medium
Distance: 6-8 km.
2. Cat Cat – Sin Chai Villages
Make friends with the adorable Black Hmong children who love to smile for photos with tourists This trek is more like a relaxing walk than a hike. Cat Cat is an ancient village of Black H'Mong people who are famous for their brocade weaving and jewelry making. You will walk to the village and see the farms and techniques used by the locals. You will also climb up to the mountain and reach Sin Chai – a village of Red Dao people with gorgeous scenery. You will be accompanied by the local children who are curious and friendly. You will also enjoy the flowers such as peach blossom, plum blossom, gladiolus, pear blossom, rose… if you come here in the spring.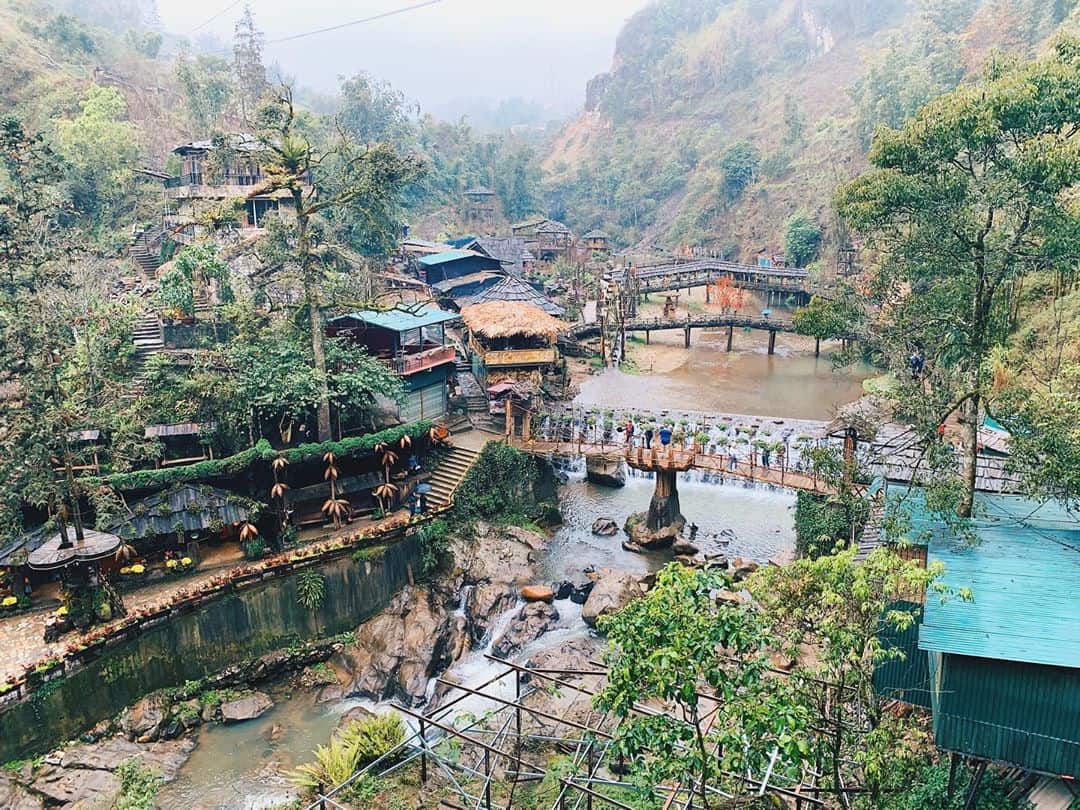 Cat Cat Village
Duration: A half day
Trekking level: Easy
Distance: 3-5 km.
3. Ta Phin Village
Trekking is a great way to connect with local ethnic people and discover their ways of life Ta Phin village is situated about 12km from Sapa Town. The village of Red Dao and Hmong people has a rich culture that has not been affected by the modern life. The Red Dao are known for their herbal medicine and their use of plants to treat many illnesses. Trekking through the countryside, you will see the beautiful landscape of rice fields, mountains, streams, and hill tribe houses. It is wonderful to spend some time wandering the village, seeing the local life and talking with them.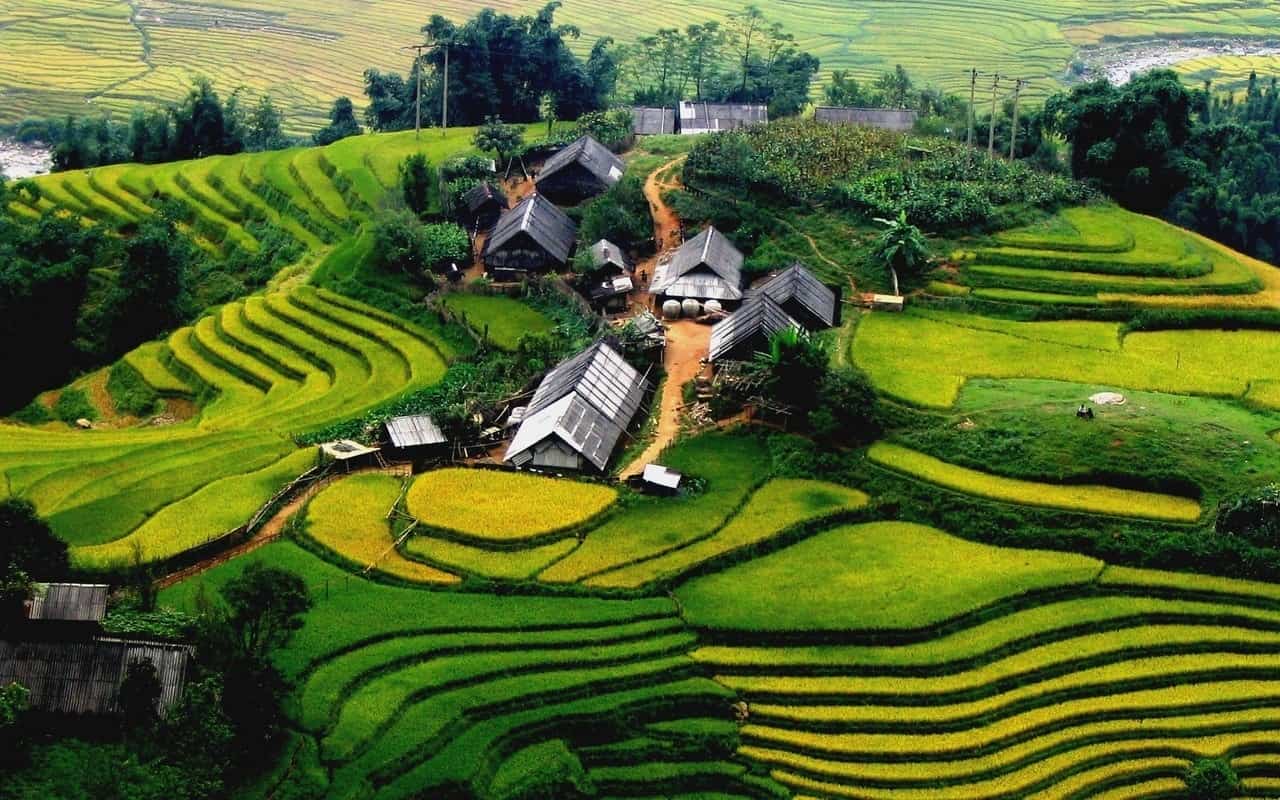 Ta Phin Village
Duration: A half-day to full day
Trekking level: Easy – Medium
Distance: 5-7 km.
What to Pack for Trekking in Sapa
Packing for trekking in Sapa can be hard, as you need to be ready for the weather, the terrain and the trip duration. Here are some key items that you should take for your Sapa trekking adventure:
Clothing: You should take clothing that can handle different weather and temperatures. Sapa can be cold and foggy in winter, hot and humid in summer, and rainy and muddy in spring and autumn. You should take layers of clothing that are warm, waterproof, breathable and quick-drying. You should also take a hat, a scarf, gloves and socks for extra warmth.
Footwear: You should take footwear that is comfortable, durable and suitable for different terrains. You will walk on dirt paths, rocky slopes, muddy fields and slippery bridges during your trekking trip. You should take hiking boots or shoes that have good grip, support and cushioning. You should also take sandals or flip-flops for resting at your accommodation or homestay.
Backpack: You should take a backpack that is spacious, lightweight and comfortable. You will need to carry your backpack for several hours per day during your trekking trip. You should take a backpack that has enough space for your clothing, footwear, toiletries, water bottle, snacks, camera and other essentials. You should also take a backpack that has padded straps, waist belt and chest strap for extra comfort and stability.
Toiletries: You should take toiletries that are basic, eco-friendly and compact. You may not have access to showers or toilets during your trekking trip. You should take toiletries that are essential for your hygiene and health, such as toothbrush, toothpaste, soap, shampoo, deodorant, sunscreen, insect repellent and toilet paper. You should also take toiletries that are biodegradable and natural, as you may have to dispose of them in nature. You should also take toiletries that are small and light, as you have limited space and weight in your backpack.
Water bottle: You should take a water bottle that is reusable, refillable and insulated. You will need to stay hydrated during your trekking trip. You should take a water bottle that is made of metal or plastic that can be reused and refilled with clean water from springs or streams along the way. You should also take a water bottle that has a lid or cap that can prevent leaks or spills. You should also take a water bottle that can keep your water cold or hot depending on the weather.
Trekking in Sapa is a wonderful way to discover the beauty and diversity of Vietnam's northern region. It is also a great way to experience the culture and lifestyle of the ethnic minority groups who live there. However, trekking in Sapa also requires some preparation and planning, as there are many factors to consider such as the difficulty level, the route, the option, the transportation, the accommodation, the guide or porter and the packing. In this blog post, we have shared with you some tips and advice on how to plan your Sapa trekking adventure. Hope this information helps you have a smooth and enjoyable trip with Incredible Asia Journeys.