Me Cung Cave's rather mystical English translation of 'The Bewitching Grotto' always leaves tourists curious for more. Unlike the vast majority of other Halong Bay caves, this one doesn't come with a whimsical myth about its origins. Instead, it is famous for being one of the sites of prehistoric man, who lived here between 7000 and 10000 years ago.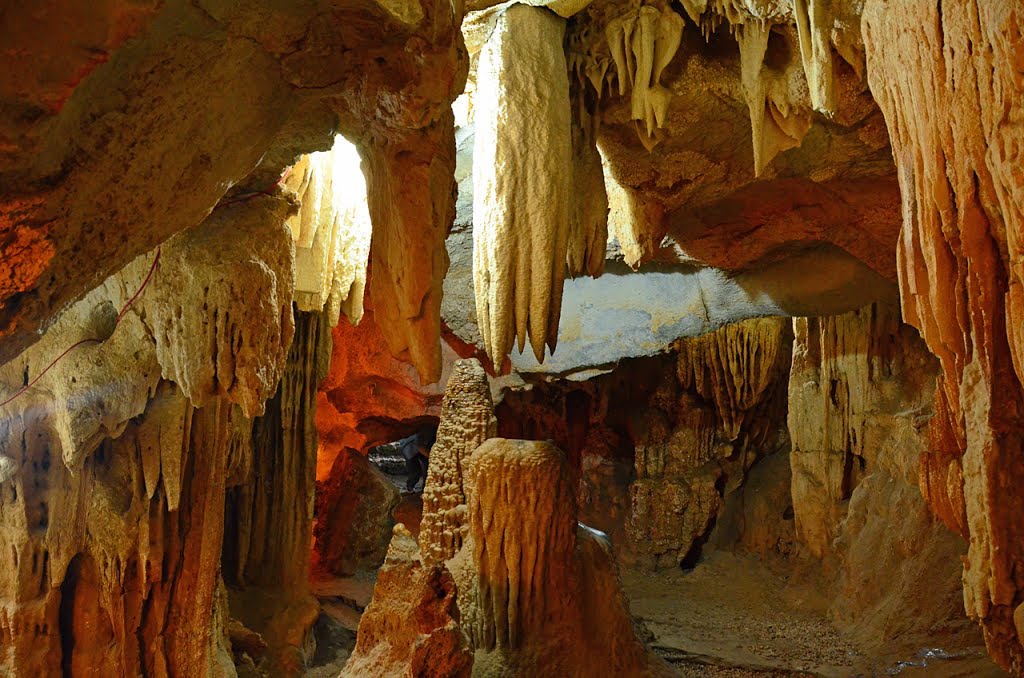 Me Cung Cave in Halong Bay
Where is Me Cung Cave?
The magical cave is located on Lom Bo Island, about 2km south of the centre of the UNESCO World Heritage site of Halong Bay. This is a regular place for overnight cruises to dock because of the peacefulness of the surrounding area and the potential for swimming in its crystal waters.
What do you do in Me Cung Cave?
Climbing the 25 metres up the stone steps to the entrance of the cave and entering one person at a time, visitors are invited to explore the labyrinthine layout of Me Cung Cave (which is why the cave also goes by the English translation of 'The Maze Cave'). The many arms that branch out from the entrance are dimly lit but the huge stalactite and stalagmites still cast formidable shadows around you.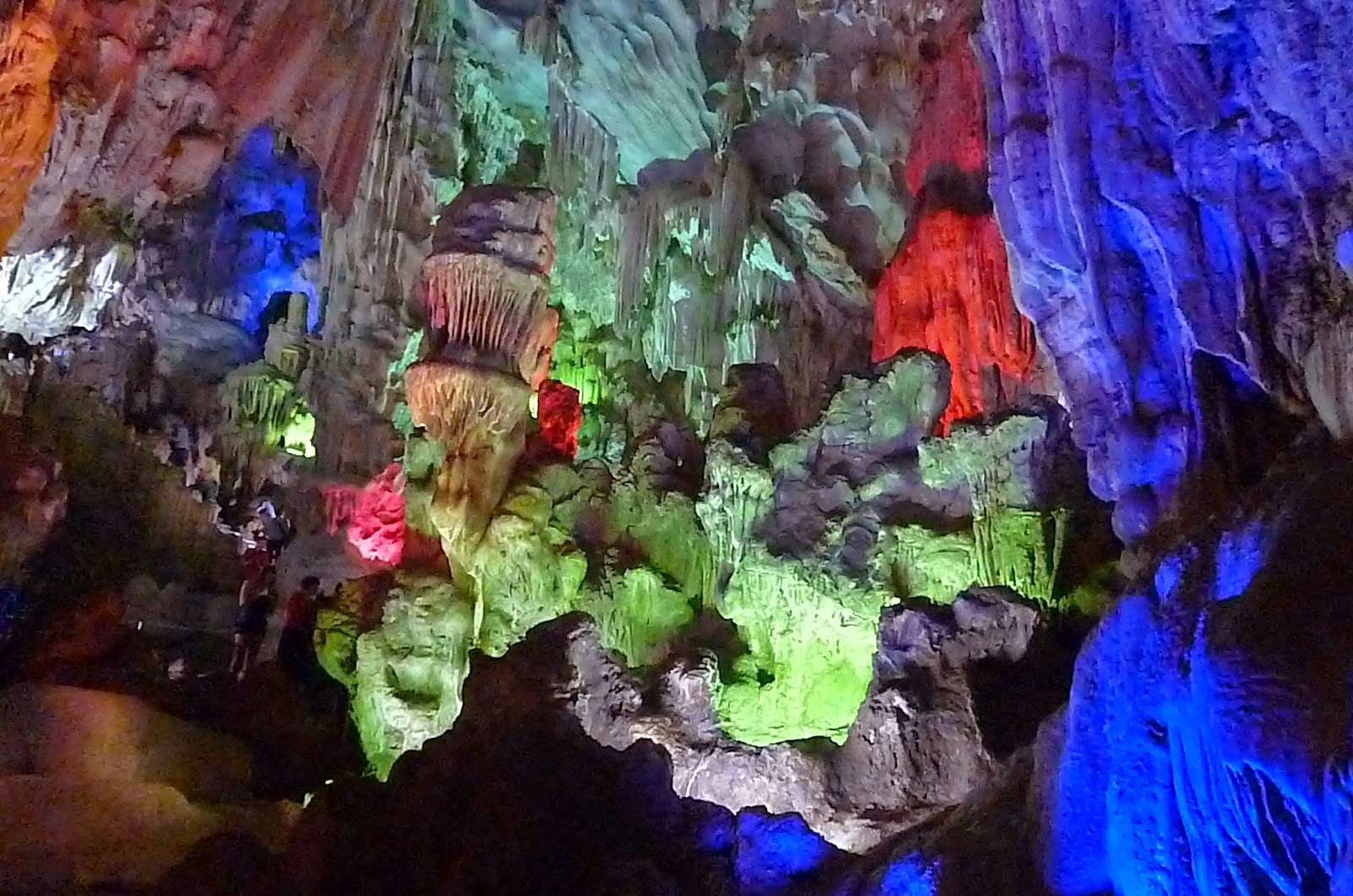 The colors of Me Cung Cave
Light floods in as visitors head towards the exit, which opens up onto a fantastic view of the enclosed lake neighbouring Me Cung Cave, with its sloped tree-topped rock walls and the silhouettes of Halong Bay's jagged teeth of islands in the background.
What is the history of Me Cung Cave?
The rich abundance of octopus, shrimp, algae and coral life in the ever-blue water of the grotto is what made human habitation possible between 7000 and 10,000 years ago. The dry and airy conditions of Me Cung Cave provided early Stone Age humans with a comfortable dwelling and the 'Royal Garden' of trees just outside would have been perfect for basic materials and a consistent food supply.
A fully fossilised animal skeleton was discovered during the course of archaeological research in the cave, and the entrance was deemed to initially be a staggering 1.2 metre-thick layer of fossilised Melania shells.
How do I visit Me Cung Cave?
Me Cung Cave doesn't feature on Halong Bay day trips from Hanoi, but some overnight cruises like Aphrodite Cruises or Aclass Cruises may offer excursions to the cave on their Halong Bay 3 day 2 night itinerary and Halong Bay 2 day 1 night itinerary.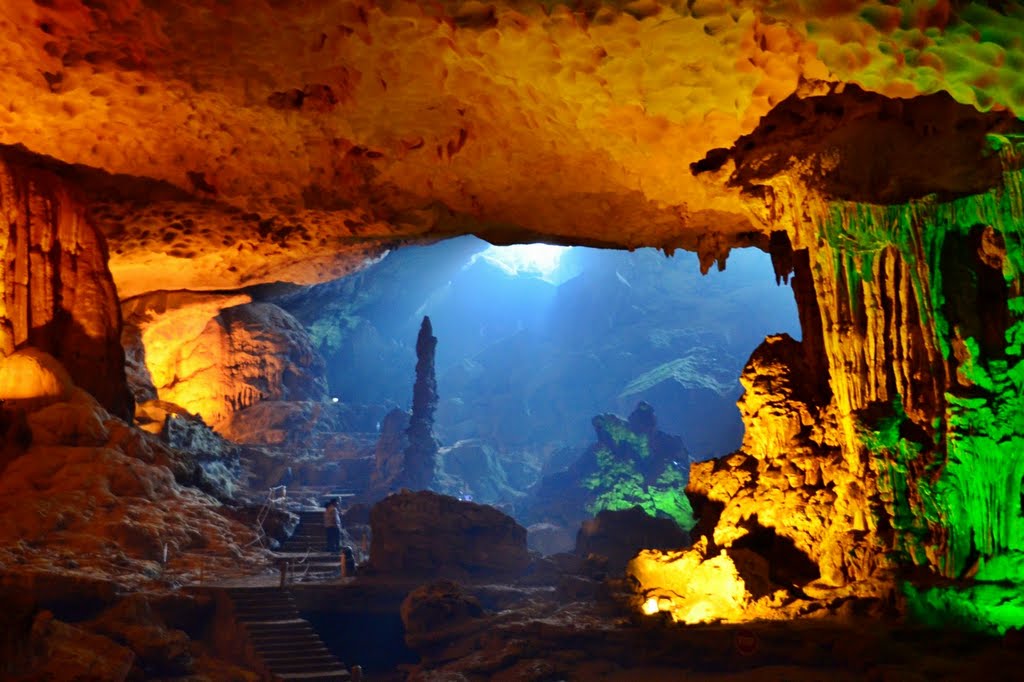 Me Cung Cave with masterpieces in stones