A Glance at Myanmar
Coming to Myanmar, which remains somewhat untouched and isolated in the eyes of the travelers, you can feel as if you are one of the first people to explore all that this beautiful and magical country has to offer. Having impressive scenery to exciting settlements, Myanmar is a magical country to visit!
Myanmar has tropical monsoon climate with two distinct seasons – dry (from October through to May) and wet (from May/June through to early October).
According to experienced travelers, the best time to travel to Myanmar is from November to February. At that time the weather is cooler so you can enjoy the tours in Myanmar for most of the destinations.
4 Reasons Why You Should Visit Myanmar
1. Myanmar has pagodas of all types
While Thailand is proud of Grand Palace, the Angkor Wat is the symbol of Cambodia, Myanmar is famous for a startling array of stupas, temples, and pagodas with the soaring, gleaming 2,500-year-old Shwedagon pagoda in Yangon being the outstanding one. The glittering pagoda itself, which is also covered literally with hundreds of golden plates, making it a must-see site for avid photography connoisseurs, is the best reason to visit Myanmar.
Other stunning religious sites to visit are: Maha Bodhi Ta Htaung, just outside Monywa, which is home to the second-largest reclining Buddha statue in the world as well as the second-largest standing Buddha statue; a temple atop the volcanic Mount Popa, which you can reach after climbing 777 steps and Kyaiktiyo - 2400 year-old miracle Golden Rock.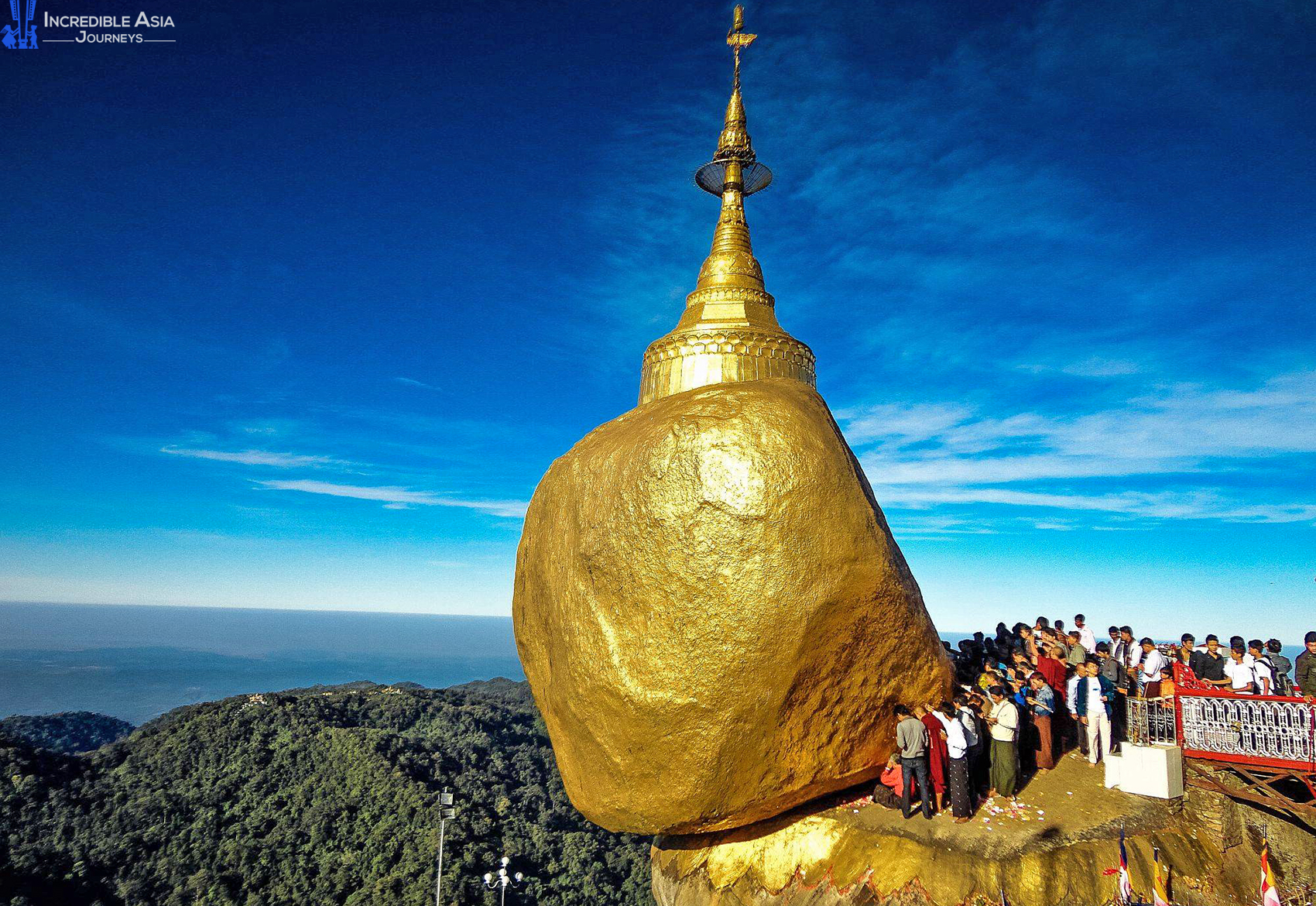 Golden Rock
2. Myanmar has exquisite cuisine
Unique and special, Burmese cuisine, which is a fusion of flavors, ingredients, and dishes coming together to make this country one of the most coveted among foodies, is not widely found anywhere in the world, the USA, the Philippines, EU or even other Southeast Asian countries.
From street food to fine restaurants, no matter where you go for meals in Myanmar, you will have a great dining experience. There are plenty of Myanmar's culinary delights you should not miss.
Those who crave something unique may opt for Burmese famous tea leaf salad called Laphet Thoke - an iconic salad of fermented tea leaves chock full of nuts and shrimp sauce, making for one of the world's most interesting salads while those with a palate craving a unique main course may try Mohinga, a breakfast noodle dish with fish broth and crispy fried fritter things on top as well as Nangyi Thoke - a salad made with thick round rice noodles mixed with specifically prepared chicken curry.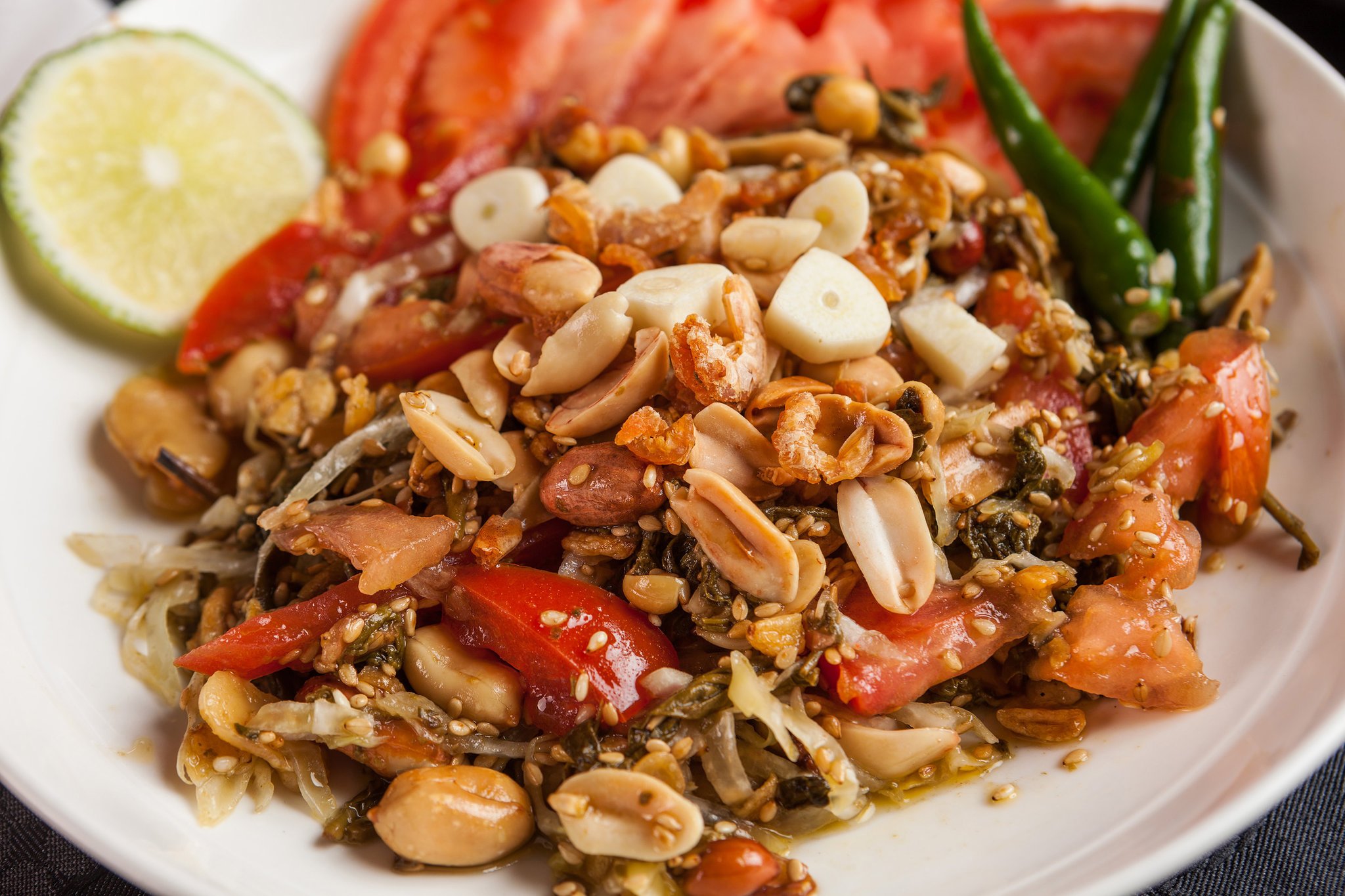 Myanmar Cuisine
3. Hospitable Burmese
Burmese are considered as the friendliest and most welcoming people in the world. No matter where you find yourselves: in Yangon's city center or in the jungle on the way to Inle Lake from Kalaw, you can easily find lovely Burmese, who are even willing to go out of their way, just to show you around their beautiful country. No scams, no tricks: just warm-hearted people looking to chat not only to practice their English but also to offer a helping hand to tourists, who look just the slightest bit lost.
Seeing locals approaching foreigners with a genuine smile, and a "hi", "hello", or "good day" is extremely refreshing on a continent where many travelers find themselves getting ripped off one way or another.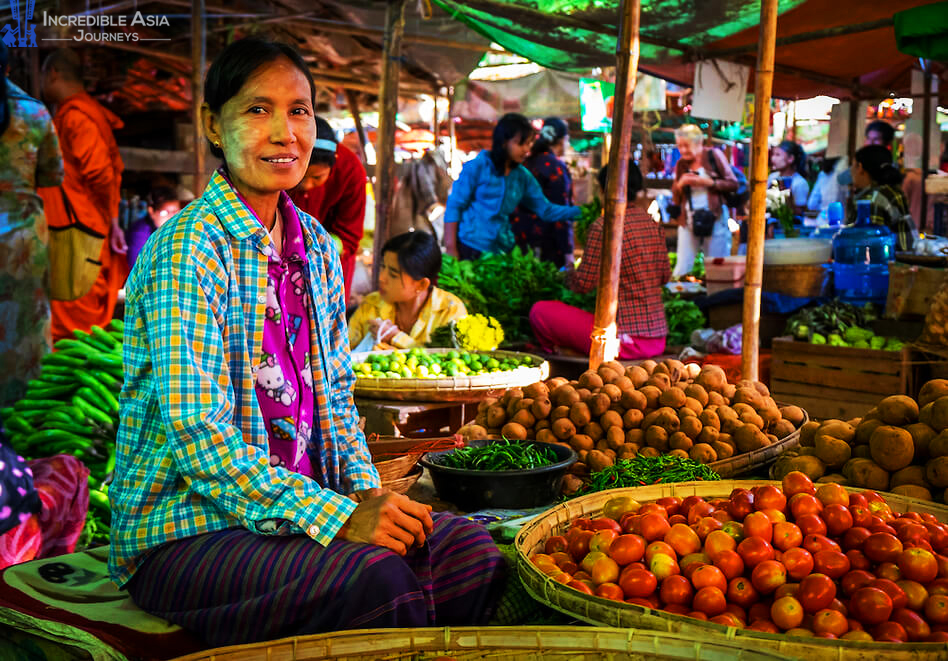 Burmese in market
4. Myanmar Is Cheap
Southeast Asia is home to amazing countries and cities, but it does not mean that all of you can afford to visit all of these. On the lookout for an affordable international destination, there is no better choice than Myanmar! It is said that Myanmar is one of the world's cheapest places.
Prices for a traditional meal in Burma are as cheap as 600 Kyat, transportation is affordable.
However, doing the tours in Myanmar is still not cheap because the price for the accommodation, guide and other services are still high.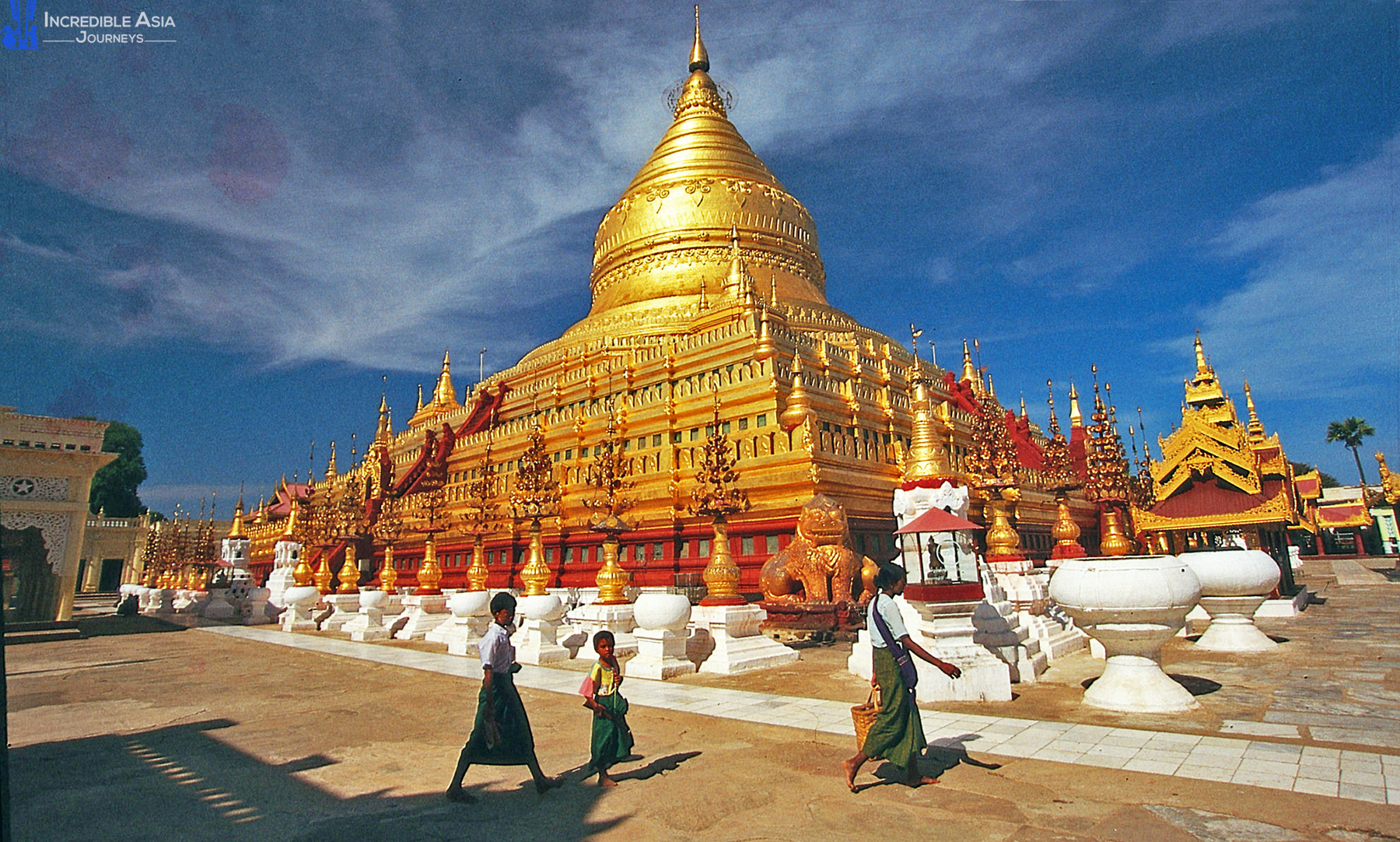 Shwezigon Pagoda